The Ultimate Foot Comfort - 100% Custom Designed Just for Your Feet
Bespoke Insoles
Made Just for You!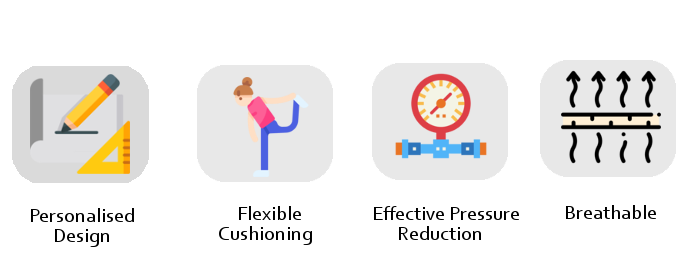 Imprints are customised, 3D-printed insoles designed and made just for you. They use a flexible rubber-like material that cushions using a honeycomb structure. They're made using measurements of your foot shape and loading, captured from your Smartphone. Software algorithms optimise the insole design, identifying your main loading regions and calculating the stiffness needed in each. The shape of your foot is used to make them fit correctly. You can customise the insoles further, with a choice of colours and patterns. Once you're happy with the design the insoles are then made at our factory in the UK and shipped straight to your door.   
100% Personalised design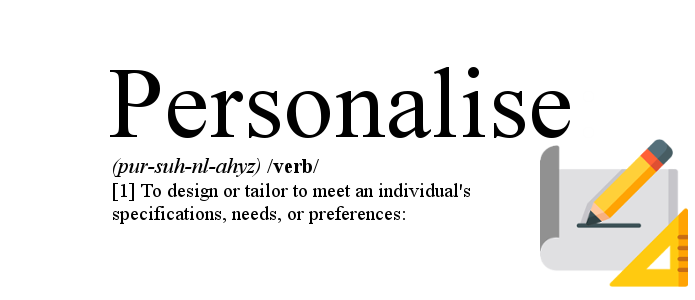 Each insole is completely designed to your individual specification. You'll receive a scanning kit that allows you to quickly capture the important areas under your feet where they make contact with the ground. These are used to identify the load zones on your feet, as well as giving information about your foot shape. Once you tell the app your weight it calculates the exact stiffness needed in each zone to provide the correct amount of cushioning for your feet. The software then digitally designs your insole, varying the honeycomb density to provide the correct cushioning and contouring the top surface to fit your foot shape. You can then choose from a number of extra options, such as the colour of the insole body, to tailor them further.
Soft and Flexible Cushioning 

Imprints insoles are made using a rubbery material known as TPU. This is flexible and perfectly suited for soft insoles that can absorb and redistribute load. Unlike rigid insoles used for foot correction these insoles are designed for comfort, optimised through our design process to cushion your feet. The foot arch provides support while also remaining pliable and unobtrusive. Once the main insole body has been 3D printed a top cover is added to provide a smooth surface. This is made from other materials commonly used in insole manufacture such as EVA
Effective Pressure Reduction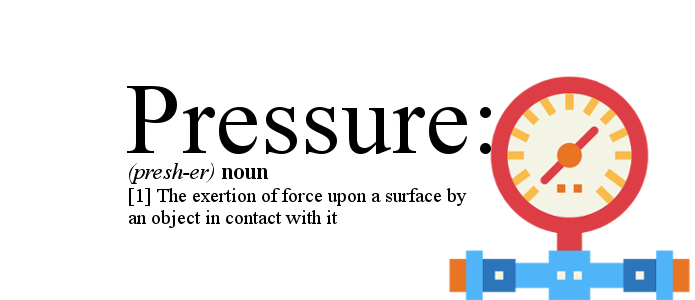 The insoles are based on patent-pending technology that uses algorithms to calculate the stiffness required to provide just the right amount of cushioning for your feet. Your weight is distributed across your foot when you move, so different stiffnesses are required in the heel and forefoot where the loading is spread across differently sized contact patches. Testing with in-shoe pressure sensors has shown this is effective at reducing pressure when walking, almost twice as effective as semi-customised insoles made from foam materials (17% vs 9%).
Breathable and Lightweight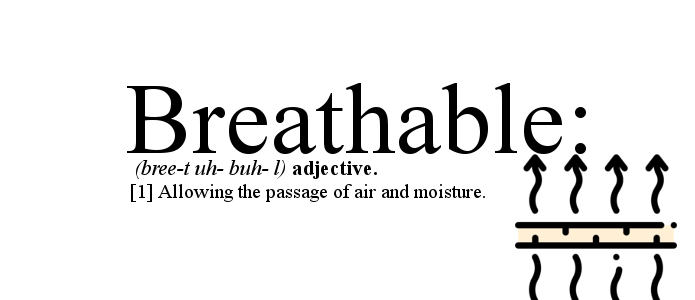 Air can circulate freely around your shoes because the insoles are made from an open lattice, rather than closed foam cells. Vents on the top surface of the insole help the airflow reach your feet for maximum comfort. Each insole is made from a thin lattice of rubber material and weighs around 50 - 75 grammes depending on their size. The standard depth is 6mm (5mm chassis plus 1mm top cover), although you can choose to have them slimmer if needed.
As Easy as 1-2-3!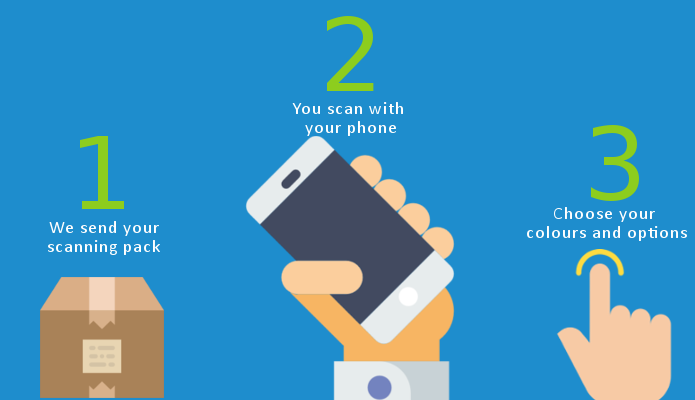 Ordering your insoles is easy. We'll send you a scanning pack and access to our smartphone app. You then scan your feet using your phone, select any customisation options and…..that's it! 
Your choices are sent digitally to our cloud software which designs your insole exactly to your specification. This creates a print-ready file which is sent to our factory where we 3D print your insole, add a top cover, run some quality checks and ship it straight to your door.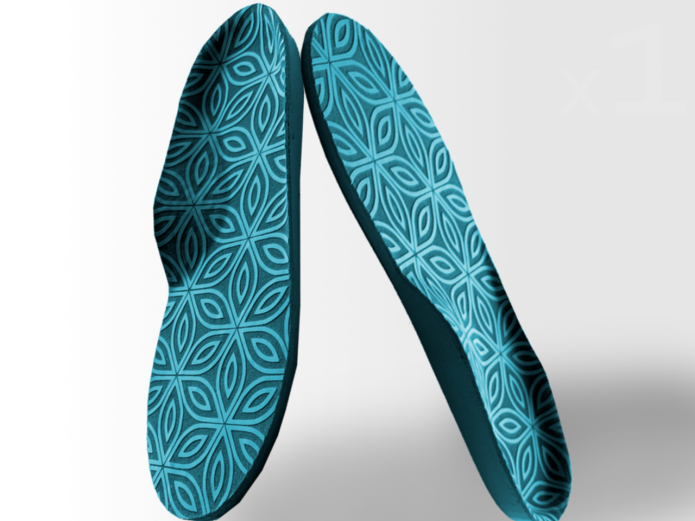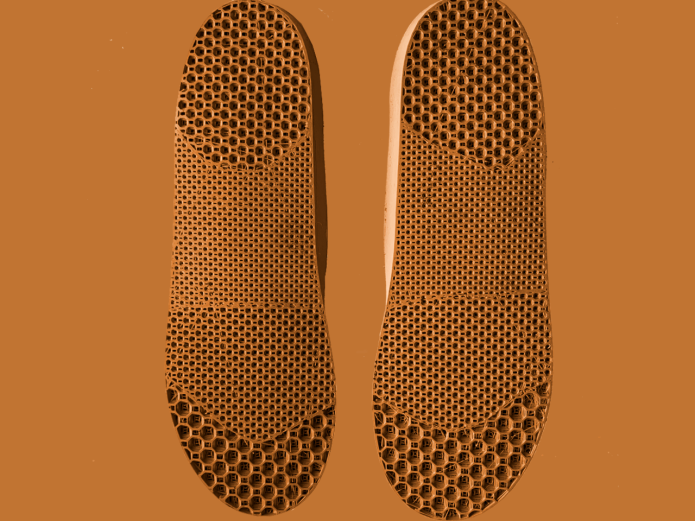 The Imprints Story
Back in 2015 the UK's National Health Service (NHS) started looking at new ways to prevent the development of foot ulcers in people with diabetes. This is a debilitating and life-threatening condition which affects around 25% of people with diabetes at some point during their lifetime. It results in over 9,000 lower-limb amputations in the UK and 73,000 in the USA, and these numbers continue to rise. It's a largely preventable condition if the correct treatment is given, such as pressure reducing insoles. Yet custom insoles that can lower foot pressure points require individually designing which means they take a long time to make. They're bulky and usually require specialist footwear which makes them difficult to wear. They use multiple layers of foam which compresses with use which need replacing frequently, and they're also very expensive. 
The magnitude of this problem let the NHS to run a competition, via its SBRI Healthcare programme, inviting companies to come up with new ways to tackle this awful condition that affects so many people.
This inspired us to see whether new 3D scanning and 3D printing technology might lead to a solution. We teamed up with experts in manufacturing and biomechanics and developed a concept using a new flexible material to create a personalised yet low-cost insole. Our competition application was successful and we set out to turn this promising idea into a product. 
Over the next 3 years insoles, 3D scanners and 3D printers were designed, algorithms developed, concepts tested and patents filed. The resulting insole was slim enough to fit into everyday footwear yet, when optimised to each individual's foot shape and load profile, reduced high pressure areas on the foot associated with ulcer formation. Clinical testing showed this was twice as effective as with the semi-bespoke insoles provided by podiatrists. By digitising and automating the design process we also found we could make them quickly with minimal manpower, lowering the manufacturing cost by an order of magnitude. Also, unlike insoles machined from solid blocks of foam, 3D printing generates very little waste material.
These medical grade insoles are now being piloted in the NHS to measure how effective they are at reducing foot ulcers.
With the launch of this Indiegogo campaign we're now making this pressure-reducing insole technology available to everybody who values comfort. If you, or someone you know, get uncomfortable feet, particularly after a long day, then Imprints are the perfect solution.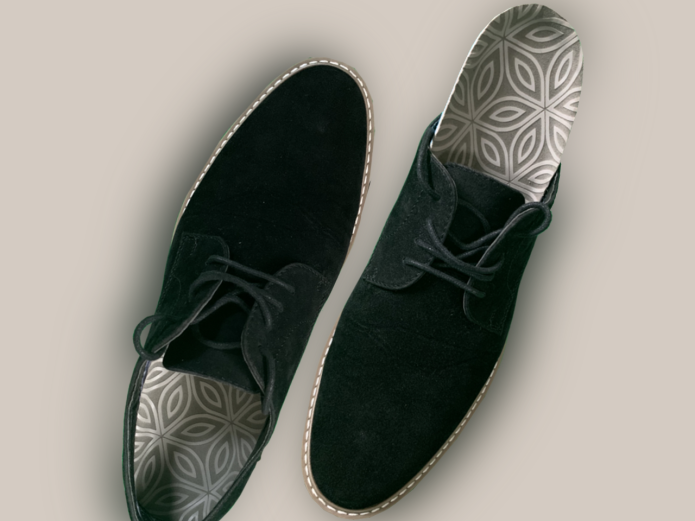 Please note that if you are suffering from a medical condition that could affect your feet  you should seek medical advice from a suitably qualified clinician. The product offered through this campaign is designed purely to improve foot comfort and is not intended to address any medical issues.
How we'll use the funds
We're running this campaign to help us scale up our production facility so that we can expand and improve our service offering. Our goal is to be able to provide insoles within 48 hours, so we need to ensure we have sufficient capacity in the factory to offer this. With your support we will extend the factory by installing additional printers, as well as improving our process automation software. We have sufficient existing capacity to fulfil the early-bird orders and have staggered the deliver of further batches to fit with the factory scale-up.
For our healthcare customers, such as the NHS, we provide a 3D scanner to capture detailed information about the underside of the foot. As part of this Indiegogo development we will create a new software app that will capture this information remotely, using our scanning pack. This software is relatively straightforward as its only purpose is to capture images of the impressions from the scanning pack, provide customisation options (colour etc.) and shipping information and to transmit this information to us securely. 
Meet the Team
Imprints Insoles have been developed by Cadscan Ltd, based in Chester, UK, that has been creating new 3D scanning, printing and visualisation technologies for the last 8 years. Its main focus has been the healthcare sector, with a focus on orthoses, medical imaging for wound management and several VR/AR applications. We have a 12-strong team which includes software developers, product designers and manufacturing. We also work closely with a number of academic institutions, in particular the biomechanics team at Staffordshire University, to provide specific expertise.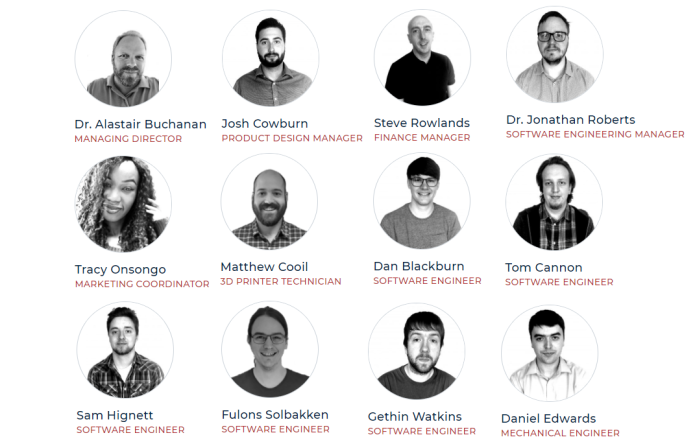 SUPPORT THEIR CAMPAIGN: https://www.indiegogo.com/projects/imprints-personalised-3d-printed-insoles#/