What can we learn about America by looking at our shoes?
Particularly shoes for women: Mary Janes, T-straps, stilettos, peep-toes, lace-ups, sling-backs, sandals, boudoir slippers. More than 100 pairs of shoes spanning the last 184 years are on view at the Michener Art Museum in Doylestown, Pa.
"Shoes can tell us a lot about identity, about social history, political history, and women's history," said chief curator Laura Turner Igoe. "They're also beautiful and fabulous objects. They can tell us a lot about design and craftsmanship in this country."
The shoes come from the collection of Stuart Weitzman, the famed shoe designer who has become a major philanthropist in Philadelphia. There are three buildings with his name on them: the National Museum of American Jewish History, the design school at the University of Pennsylvania, and the forthcoming annex of the Annenberg Center for Performing Arts at Penn.
Weitzman is based in Connecticut and an alumnus of Penn's Wharton School of Business. "Walk This Way" was originally organized by the New-York Historical Society. This show at the Michener is in its second edition.
Weitzman began collecting decades ago at the behest of his wife, Jane Gershon Weitzman, when she started giving him gifts of interesting shoes.
"What do you give to a partner over time, you know?" said Igoe. "She decided that shoes, historic shoes, would be the way to go. She selected shoes that are either really unusual or exciting in their design."
The oldest pair of shoes date to 1838, a pair of silk wedding slippers. Who made them, and who got married in them, is unknown. A sharp-eyed visitor may notice that there is no distinction between left and right. Both shoes in the pair are exactly the same shape, without regard to the arch of the foot.
The more recent shoes include Weitzman's ostentatious Million Dollar Shoes, a glamorous pair of high-heel sandals set with 464 real diamonds, made for actress Laura Harring for the 2002 Academy Awards. Weitzman later made a version for the retail market set with crystals instead of diamonds, which is what visitors to the Michener will see.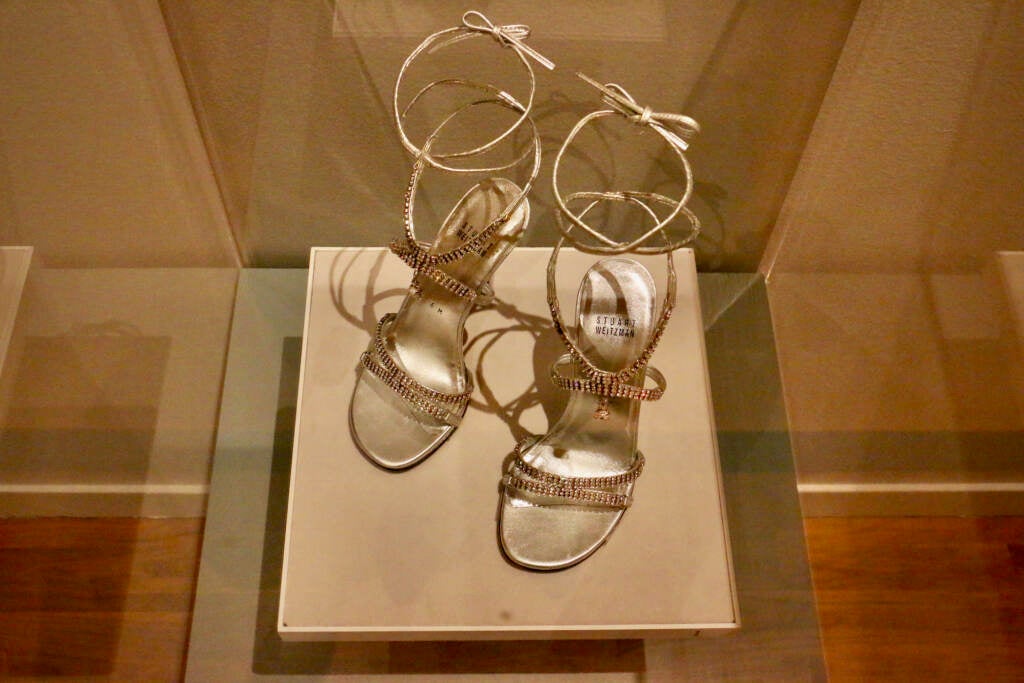 Between those historic bookends reveal the development of the American women's shoe, which shadows the evolution of the American woman, herself.
In the early part of the 20th century during a push for suffrage and the right to vote, skirt hems rose from the floor to above the ankle, making it easier to both march in the street and, later, to dance in speakeasies. Shoes became more visible, and their style more important.
Shoe designers began including large peek-a-boo eyelets, allowing colored silk stockings to shine through. Intricate beadwork on the uppers was better appreciated once a shoe was freed from the veil of a floor-length skirt.
"You've got all these interesting patterns and different fabrics that were made to catch the eye, rhinestones, and beading," said Igoe. "If someone was dancing in a club, the shoes would sparkle."
Once handmade by craftspeople, shoes became mass-produced in factories, sizes became standardized, and prices dropped. More women could buy more shoes.
Instead of just a few pairs of necessary shoes for practical purposes – summer shoes, winter shoes, Sunday shoes – a woman could buy shoes on a whim, just because she liked them. Without missing a beat, designers and retailers targeted this new market.
This new shoe market also changed women's labor. Around the turn of the century, there were more women in the workforce making shoes than in any other manufacturing sector, about 30%. Much of that work was sewing uppers. The wall text in "Walk This Way" explains efforts by women in shoe factories to unionize.
Above all, "Walk This Way" is an exhibition of American style. Weitzman learned to make shoes in Massachusetts from his father, Seymour Weitzman. Some of Seymour's shoes from the 1950s and 60s are on display, like a short-heeled pump he designed during the space race at the height of mid-century futurism: it has a toe of powder blue leather polished to a fine sheen, shaped like the point of a rocket.
Designers used modern materials to make shoes never seen before. Steel and plastic allowed heels to be thinner and longer, paving the way for the stiletto. The show pays particular attention to designer Beth Levine, who pioneered the use of plastic acrylics in the 1950s, in particular the clear Lucite heel.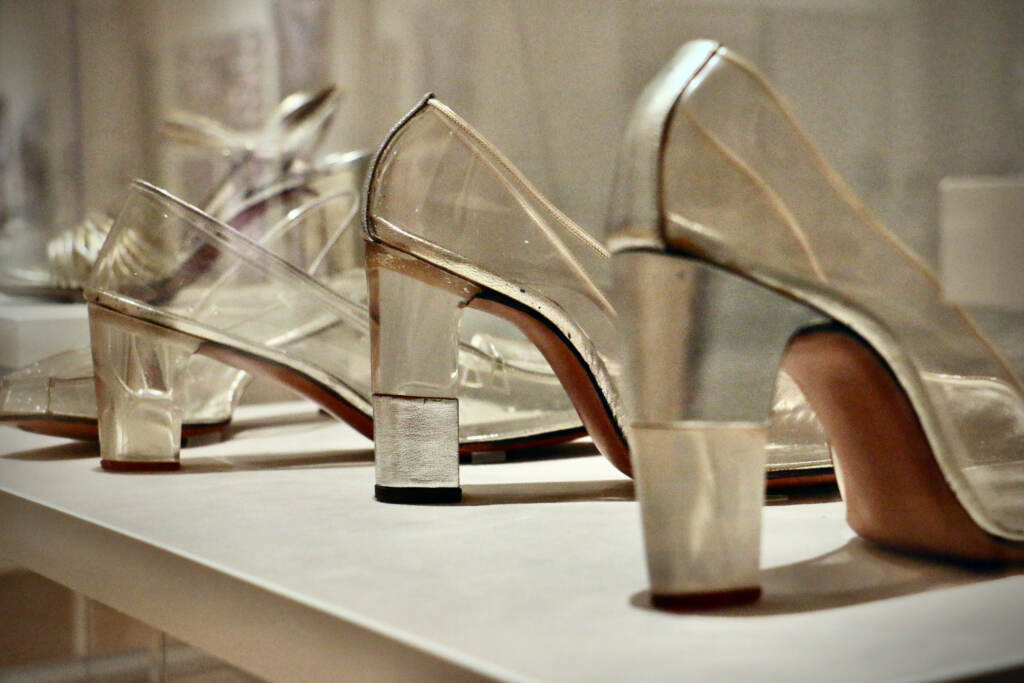 Igoe has a favorite pair: a pair of original Weitzman pumps encrusted with red and white crystals, inspired by the architecture of the Chrysler Building in Manhattan.
"I'm kind of a magpie. I like shiny things," she said. "So it's hard to resist red and silver sparkly shoes."
The Michener has had success with fashion-oriented exhibitions in the past, including the dresses of Grace Kelly, the magazine photography of Charles Sheeler, and handbags by Judith Leiber.
"Walk This Way" is meant to appease that taste.
"I've been hearing people say, 'Oh, I love this pair of shoes,' or, 'I would never wear those.'" said director of exhibitions Joshua Lessard. "Those opinions are very quickly developed."
Also overheard in the galleries: a man wondering where the men's shoes are. His male companion joked that such a show would be much smaller.
In an addendum to the main exhibition, the Michener included a small show of shoes by local designers, including two pairs of men's shoes: sneakers hand-painted by the graffiti and ceramic artist Roberto Lugo, and a pair of black dress shoes by Perry Ercolino, made for President Barack Obama.
Ercolino, a second-generation Doylestown shoemaker, is one of the few people in the United States who designs and makes bespoke shoes for individual clients. While shoes made for very wealthy corporate leaders with fairly conservative fashion tastes do not have the flamboyance of shoes made for women, Ercolino still engages his clients in deep conversations about the nuances of shape, color, and style.
"We need equal time, just as sure as the ladies do," said Ercolino about being included in this exhibition of mostly women's shoes. "We don't want to be shrinking violets. It's nice to be accepted into that universe of just good design and good making."
Ercolino made a pair of shoes for Obama while the president was still in the White House, for which he received a personal note of gratitude. So he made another pair, unsolicited, which after several years he still has not had a chance to deliver.
Ercolino has never met Obama to inquire about his personal style or take measurements of his feet. He gets his information second- and third-hand from Obama's personal tailor. But he is fairly certain he got it right when he saw photos of Obama wearing his shoes during an official presidential trip to the Middle East.
The second pair, having never been worn, is at the Michener Museum waiting for their intended.
"I wanted to get them to him before he left office, within the last six months of his tenure in the White House, but nothing ever seemed to work out with the people that I had some connections with," said Ercolino. "So there I am sitting with a pair of shoes for the president. If he ever gets away from Martha's Vineyard, or down near Kalorama, I'll maybe just throw them over the fence."
"Walk This Way" will remain at the Michener Art Museum until January 15.
SOURCE: https://whyy.org/articles/michener-museum-history-america-shoes/