We were tired of buying different expensive insoles which hardly last and didn't really solve our specific foot problems. And we came up with the solution, OneSoles: The Ultimate Customizable Insoles. These highly affordable ($29) insoles have superior durability and easy maintenance (washable) compared to any other insoles in the market, and can be heavily customized to your foot shape/arch/support required for different sections and also blisters/ulcers, with just two pictures of your foot.

Check us out at www.onesoleinsoles.com
Join us in our journey to make the most affordable high quality custom insoles for everyone, including developing countries where they cannot afford over $10 for shoes 
The Ultimate Customizable Insoles
OneSoles insoles are the highest quality custom insoles in the market and affordable for everyone at just $29/pair. The most unique product features are:
Extremely High Durability (with negligible tear propagation) 
Washable via washing machine/hand wash (say no to foot odor!)
Custom support for High Arch/Flat Foot
Custom "Skin-Like" materials for your specific foot needs (US Patent Pending 15/204,353)
Wearable with Blisters/Soars/Ulcers
Most Efficient Process (Needs 2 Pictures of your foot)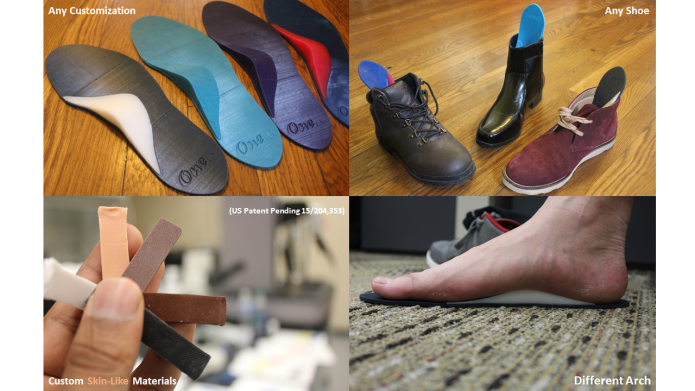 At OneSoles, we like it simple and feel that insoles doesn't have to be cool looking or high-tech! They should be affordable, last long, easy to maintain, and specifically address YOUR foot problems, not global foot problems!   
Our 3-STEP Process
Our 3-step ordering process uses an App which will take you less than a minute of your time to complete your order:
Take two pictures of your foot (Top and Side View)

Attach Third Picture (Bottom View: for Blisters/Sores/Ulcers)

Attach Fourth Picture (Foot Stress Map: Wet your foot and step on a white paper) 

Select your foot Size/Add Extra Details 
Order Confirmation and Processing (Less than a day)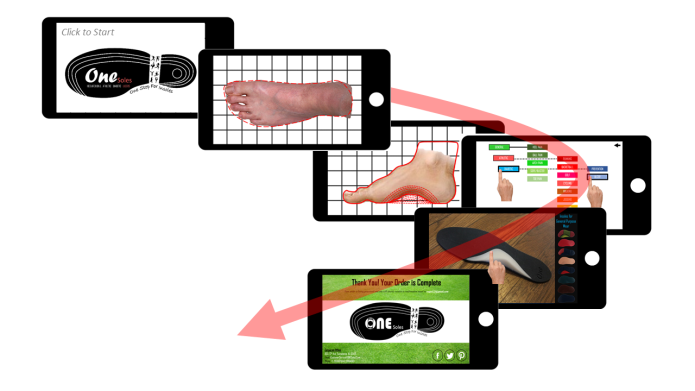 We DON'T create complex 3D foot models with 20+ pictures, as its a waste of your and our time! Our inbuilt algorithm with two-pictures gets your foot shape and arch information, that's all we need.

Why OneSoles?
Why should you buy OneSoles when their are so many insole brands and so called "custom insole" brands out there?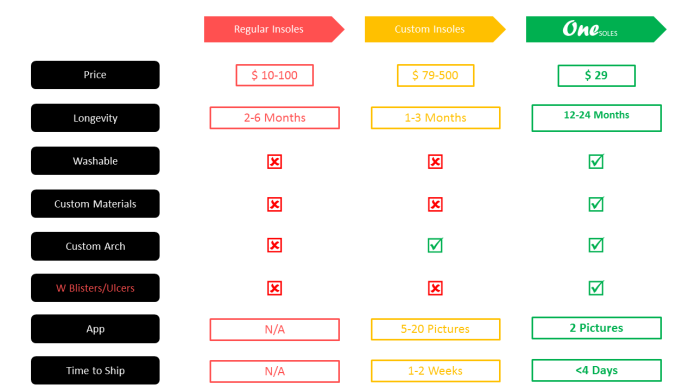 What can you Customize?
With OneSoles, you can customize:
Foot Shape (Arch)
Materials at High Stress Points (Synthetic Skin,

 

US Patent Pending 15/204,353)
Blister/Ulcer Isolation (Any size or location, US Patent Pending 62/360,773)
Colors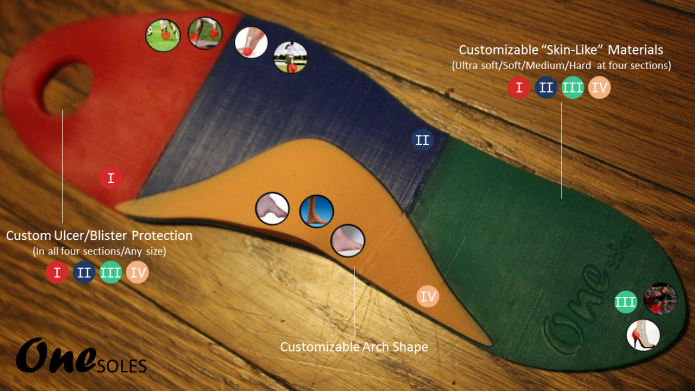 Beta Testing
We have tested our insoles on beta users around the world and this is what they have to say: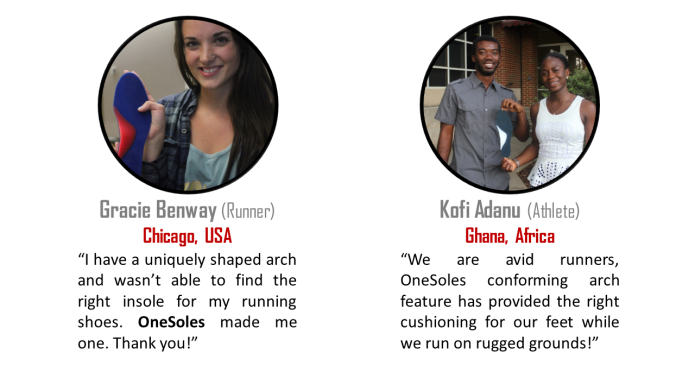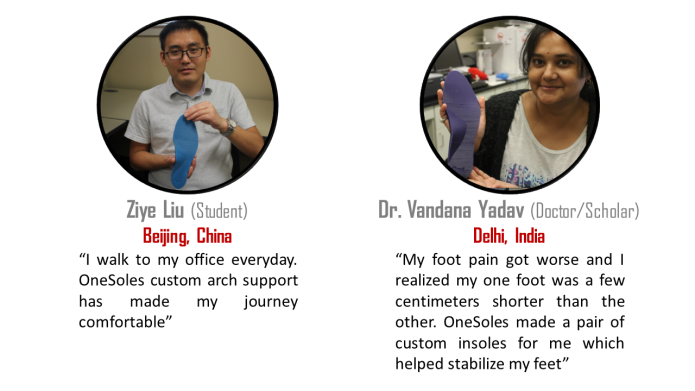 Media and News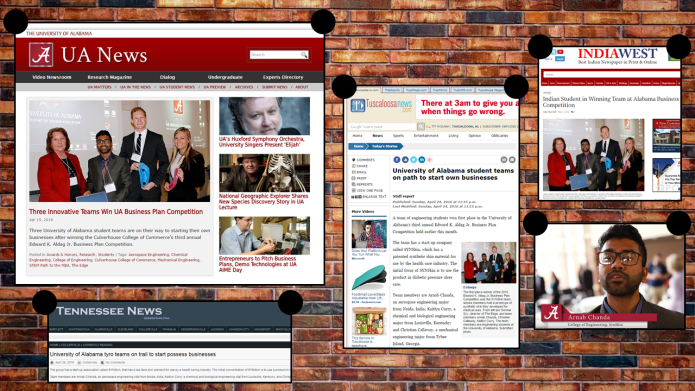 Partnerships and Mentors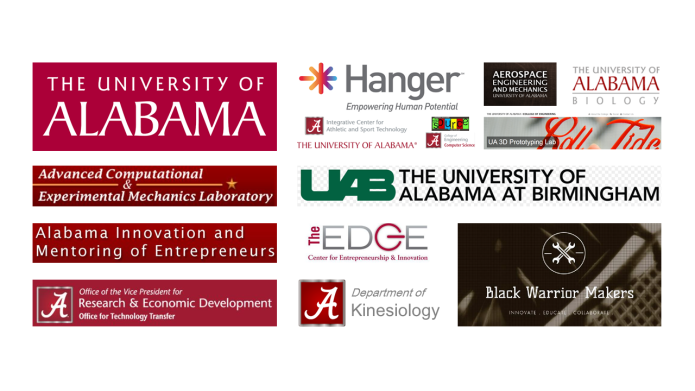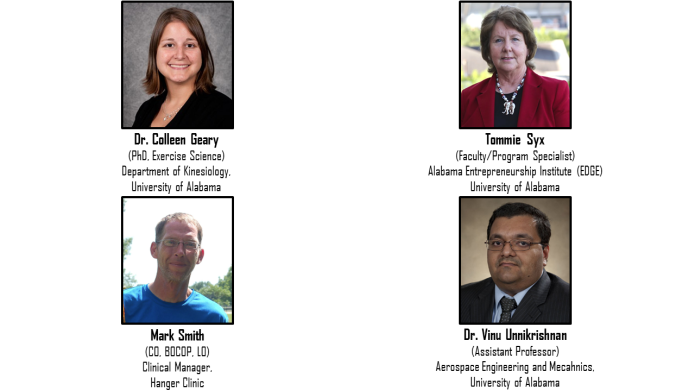 Design Phases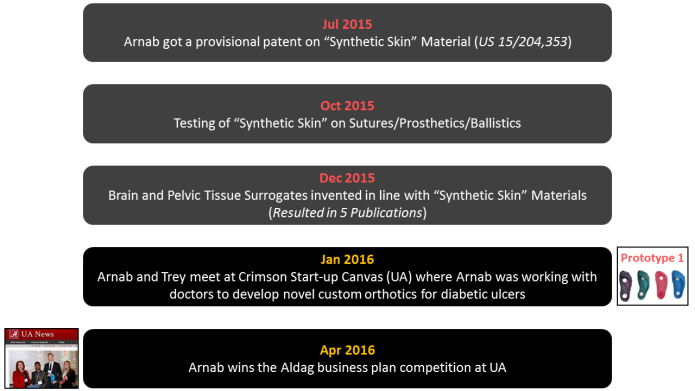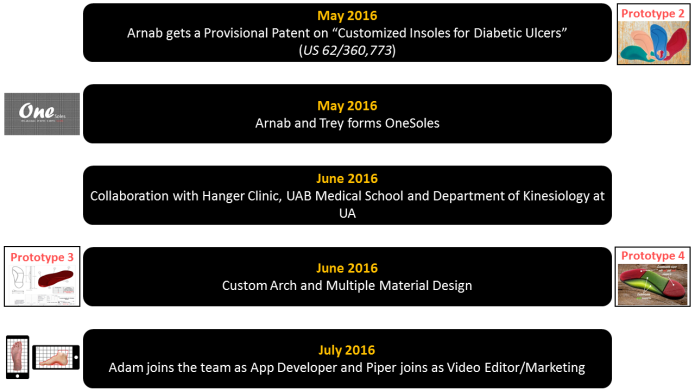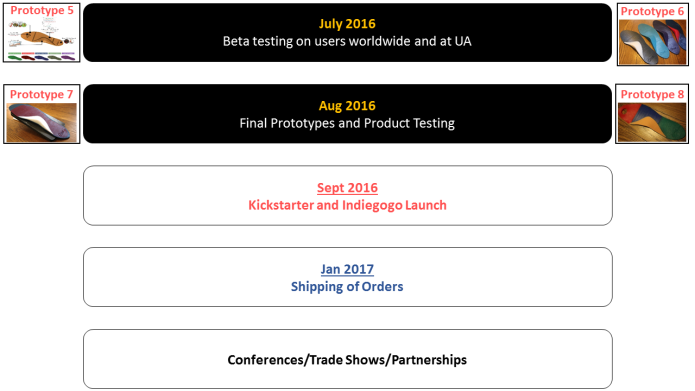 Manufacturing and Testing
Unlike commonly used complex additive manufacturing processes such as Selective Laser Sintering (SLS) for making custom shoes and insoles, we use a fast and cost effective extrusion based 3D printing process to fabricate OneSoles. The synthetic skin material (US Patent Pending 15/204,353) which can be range from ultra soft to hard, can be dispensed via nozzle attachments at specific sections of our insoles, using our proprietary manufacturing process. The resulting insoles are extremely durable with minimal tear propagation.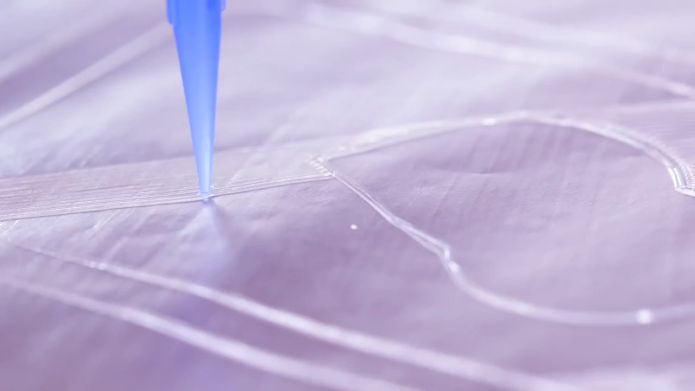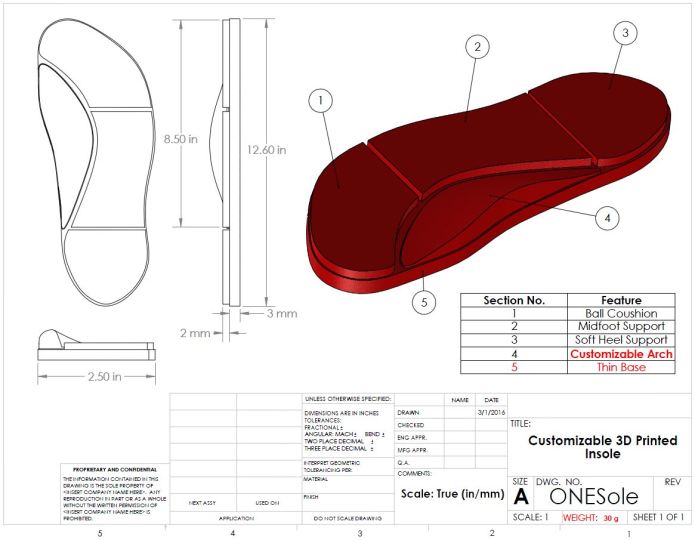 Synthetic Skin Technology Used in OneSoles
Tear Test of
OneSoles
compared to Standard/Custom Foam Based Insoles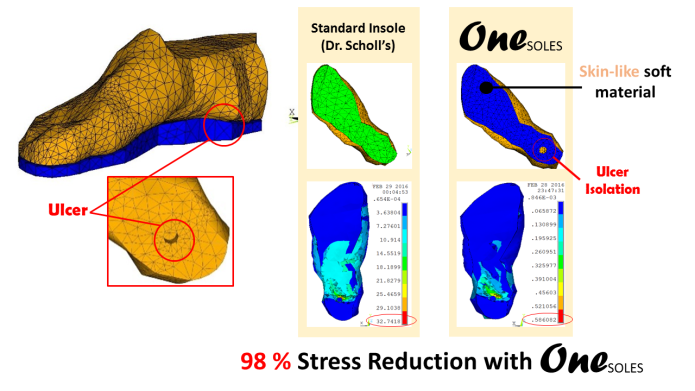 Team
OneSoles is based in EDGE at Tuscaloosa, AL. It was co-founded by Arnab Chanda and Trey Robbins. Arnab is a final year PhD student at the Department of Aerospace Engineering at the University of Alabama (UA) and has four provisional patents and has worked previously in USA, China and India. Arnab's area of research is "Biomechanics" and has eight publications and presented in multiple international conferences. Trey is a sophomore at the Department of Mechanical Engineering at UA and has over 8 years of experience in the biomedical industry.
Adam Pluth is a senior at the Department of Computer and Electrical Engineering and has over 5 years of experience in App development and website designing. Piper Daniels is a sophomore at the Department of Aerospace Engineering at UA and is an expert in designing and video editing.    
We as a team are very excited to see where we go from here trying to solve foot problems worldwide.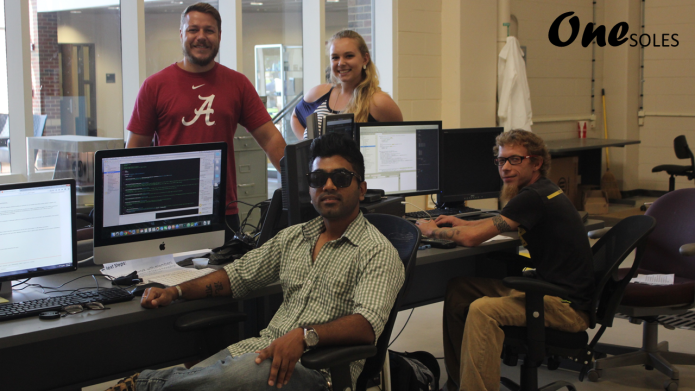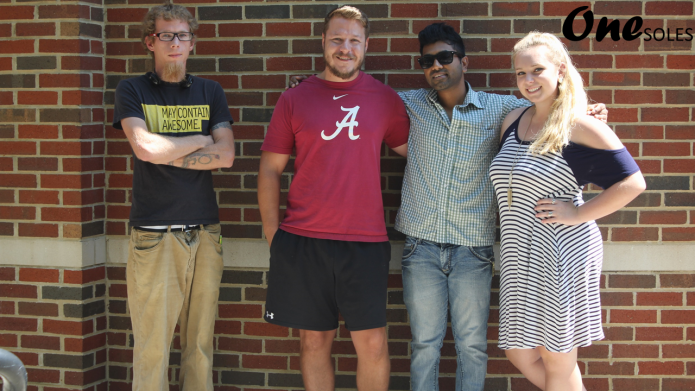 SUPPORT THEIR CAMPAIGN: https://www.indiegogo.com/projects/onesoles-the-ultimate-customizable-insoles#/