ONLINE 3D FOOTWEAR DESIGN IN RHINO COURSE
September 16 - October 27, 2019 
Yes! It is ready for registration: our online course for 3D footwear design in Rhino. We have given many of these courses offline, so we know it is a steep learning curve. That is why we have developed a course that combines video exercises with live webinars. Watch the video below for more information and check the course page on our FOOTWEAROLOGY online academy.
FOOTWEAROLOGY FOR THE FUTURE

For the online Rhino course we intentionally chose an upper with a current, molded construction. If you want to know more about the latest footwear manufacturing technologies and how you can apply these to make footwear more sustainable, then register for our Footwearology for the Future online course. We now also offer a very attractive bundle to combine this course with the online Rhino program. You can check the video below for more info, or go to the course page.
GRASSHOPPER FOR FOOTWEAR IN NEW YORK!

Unless you already have experience in Rhino, the new online Rhino training is also a requirement for people who are looking to expand their digital design skills even further and want to join our upcoming Grasshopper for Footwear training in New York from November 4-8. This 5-day Grasshopper intensive in collaboration with Ultimaker 3D printers is meant for footwear professionals that want to be able to create complex structures like lattices and voronoids, for both uppers and soles. You can find more information here.
CURATED TOUR OF DUTCH DESIGN WEEK

Every now and then you will have to get away from the computer screen though and open your mind to new ideas in the 'real world'. So let us take you on a tour of the most inspiring design event in the world: DUTCH DESIGN WEEK, one of the largest and most influential design festivals in the world, especially when it comes to sustainable design... AND FOOTWEAR! The Netherlands have at least 9 academies with footwear programs, from hand crafted shoes, to high-fashion, high-tech, biotech and orthopedic. And all of them exhibit here! This huge event that attracts more than 355.000 international visitors takes place in and around Eindhoven, spread out over many locations, so you have to know where to go! Let us take you by the hand on our curated two-day tour on October 23 and 24, 2019.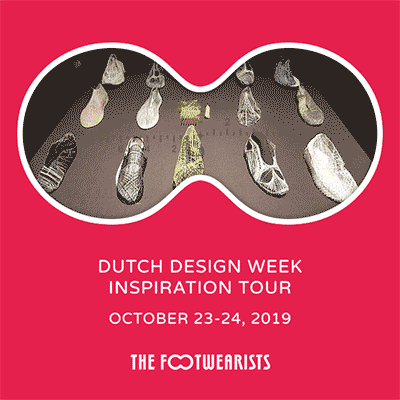 FROM BIG DATA TO FOOTWEAR AND BACK - FOOTWEARISM II

If you stay another day in Eindhoven, you can join the next edition of our FOOTWEARISM conference, which will take place on the afternoon of October 25, 2019. This time it will be in collaboration with Eindhoven University of Technology and it focuses on how big data will be materialized in footwear. We will not just pay attention to the technological developments that will make this possible, but also on the legal and cultural changes that will need to happen simultaneously.
LEARN HOW WE WILL CREATE MOLDS, UPPERS AND SOLES IN RADICALLY NEW WAYS AT THE FOOTWEAR MATERIALS SUMMIT IN PORTLAND!

Speaking of conferences: we are lecturing at several of them in the coming months, about a wide variety of topics. You can find the full schedule here. We are currently preparing for the most spectacular panel discussion we have ever done! This will take place as part of FDRA's Footwear Materials Summit in Portland on August 13. It will focus on new material application technologies, including entirely new ways of creating molds, uppers and soles. We will talk with:
FDRA is offering a special discount for relations of THE FOOTWEARISTS. Email us if you would like to receive the secret coupon code!.
ATTENTION: if you want to stay updated on daily footwear innovation news, then follow us on INSTAGRAM. This is where we post most regularly. 
#3DShoes #3DPrintedShoes #3DPrinted