In recent years, 3D printing has been making its way into the footwear industry, gaining popularity slowly but surely. 3D printed footwear not only features innovative and artistic designs, it also boasts some practical performance advantages.
First, using elastomer materials like TPU instead of fabric or foam allows for better characteristics. Elastomers are durable, strong, flexible, and completely waterproof, making 3D printed footwear long-lasting and less easily damaged. Second, complex lattices can be designed and created for optimal shock absorption, ventilation, and energy return. This also means 3D printed footwear can be made with more creativity and uniqueness.
3D printed footwear can also be printed in one piece without glue or stitching, eliminating weak points. Furthermore, such products can be customized to the wearer's foot size and shape, and easily modified in CAD to add artistic features.
Such advantages can be seen, for example, in the case of Adidas, which launched its 4DFWD running shoes in 2022. But… what about slides?
Slides have recently seen a surge in popularity as they're a comfortable, low-cost, and trendy alternative to closed-toe shoes. They're also not as flimsy or informal as slippers, making them a great middle ground. 3D printable lattice structures are perfect for slides as they're meant to be artistic, breathable, and comfortable.
In this article, we'll look at some 3D printed slides that are already available on market, as well as some concept projects that may become available in the future.
ON THE MARKET
These slides have been officially released by their respective brands or manufacturers, and are available for purchase!
Asics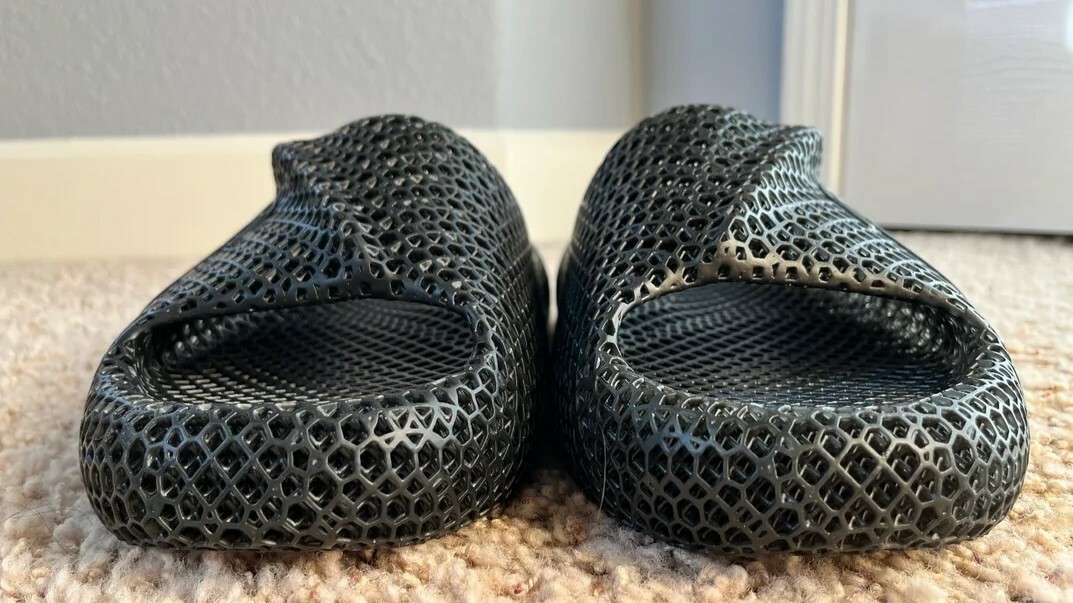 Seriously... they look so cool (Source: JO_NNYY via Reddit)
Asics has been a major player in the footwear industry, and is arguably best known for its sneakers. Recently, they explored 3D printing slides and released their first product, the Actibreeze 3D Sandal, in 2022.
Actibreeze 3D Sandal
This sandal blew up in popularity, and is by far the most popular version on this list. It's earned its many very positive reviews, as it creatively demonstrates the excellent potential of 3D printing for slides.
Being purely designed for post-exercise comfort and recovery, the lattice shape is designed for 360-degree airflow, increasing breathability drastically. According to Asics' data, this pair of slides is able to keep temperature and humidity levels around the wearer's foot lowest among all other sandals.
The thick lattice is designed for maximum "step-in-comfort" and cushioning, and the sole will compress and "bounce back" with each step.
And let's cut to the chase: They look super cool. You'll just need to be lucky to find them, as they're discontinued in some marketplaces, so try looking for second-hand options.
Price: $80
Printing technology: DLP
Actibreeze Hybrid Sandal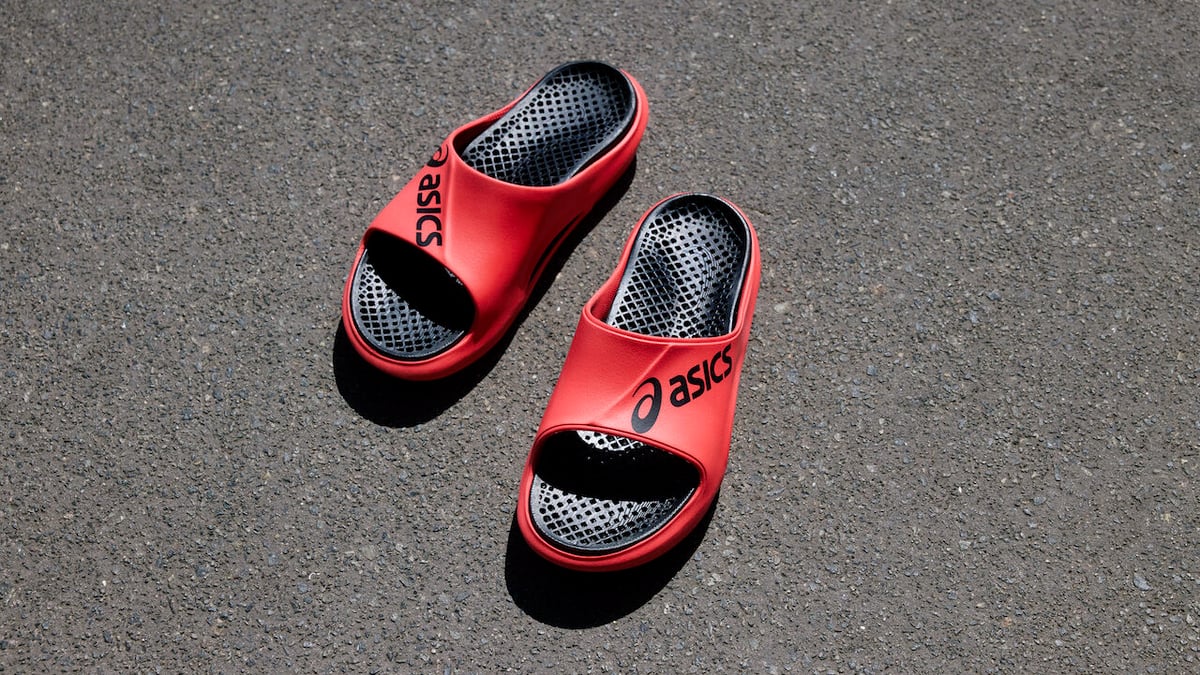 This sandal only has a printed footbed (Source: The Long Run Australia)
The Asics Actibreeze Hybrid Sandal, also known as Asics Actibreeze 3D Sandal 2, is a second version or variant of the Actibreeze 3D Sandal. As its name suggests, this slide is a "hybrid": Only the footbed is 3D printed, while other parts are not.
The extra thick lattice footbed uses elastomer material from Asics' 3D printing partner LuxCreo. This material enables energy return and resilience, hence still providing cushioning for the foot. However, this lattice is still less comfortable than the original, by design.
Because this sandal is designed for not only comfort but also performance, it's more suitable for day-to-day use rather than as a recovery sandal, like the previous version. This also means a more firm and less comfortable (by comparison) design. On the plus side, it offers more color variants, including multicolor options.
Price: $80
Printing technology: DLP
Zellerfeld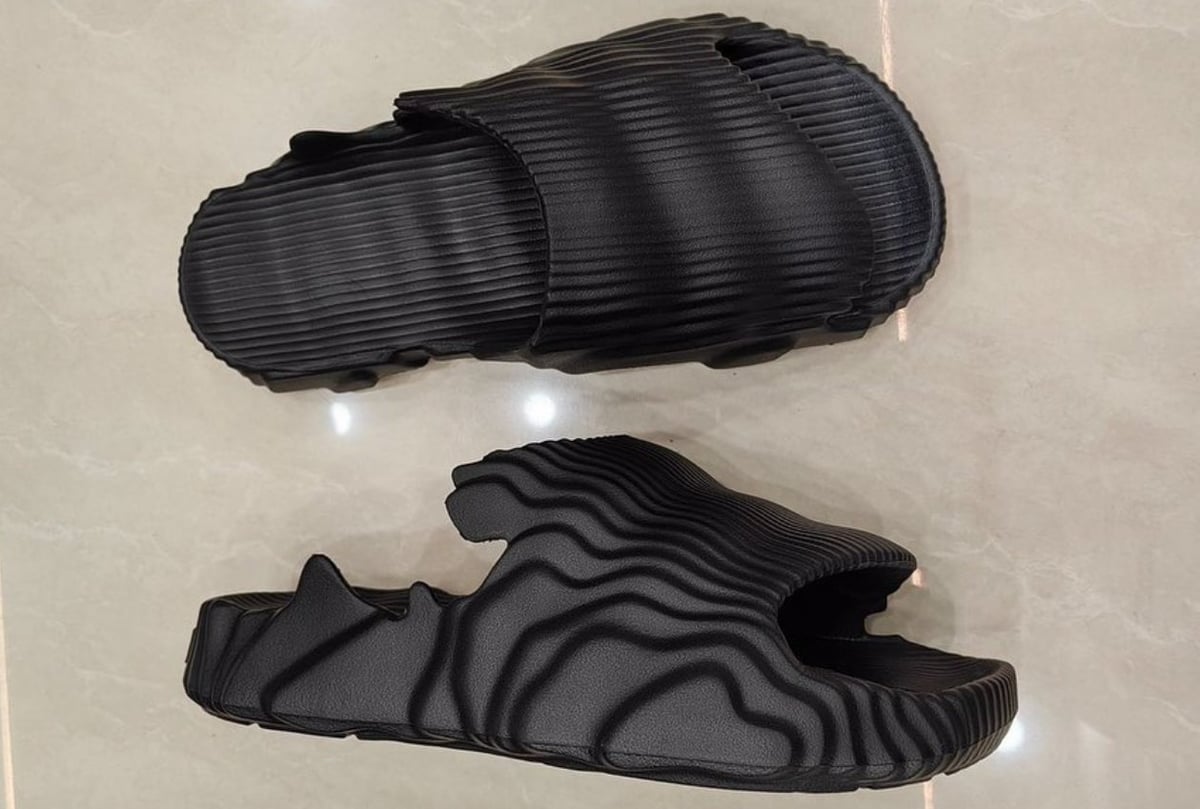 Sleek black (Source: theauracles_ via Instagram)
Zellerfeld is a relatively new company for custom 3D printed footwear. This company has unique sneaker and slide designs, and all of them are fully 3D printed. Most of their designs are in collaboration with celebrities, artists, or designers.
Nami (Auracles x Nos Ailes)
Nami is a collaboration between musician Chris Brown and fashion companies Nos Ailes and The Auracles.
It's the first product made using a special material called ZellerFOAM, which Zellerfeld says reduces printing time and hence lowers costs. Using this slide, Zellerfeld aims to further ZellerFOAM's texture, feel, and material quality.
Zellerfeld products are custom printed for the shape of the user's foot, and customers can 3D scan their feet using their smartphone when ordering. If you prefer, standard foot sizes are also available to choose from. They also focus on eco-friendly materials, and almost all their products are 100% recyclable. These explain the higher price points for these slides.
This slide is designed for day-to-day use, with a more subtle lattice of smaller holes, as compared to a "full" lattice. However, Zellerfeld claims it can still provide good breathability around the foot.
It's worth noting that, at the time of writing, this popular slide is currently sold out, and is slated to ship between December 2023 and January 2024.
Price: $185
Printing technology: Zellerfeld's self-developed FDM 3D printers
Amoeba Baby (Kitty) Slide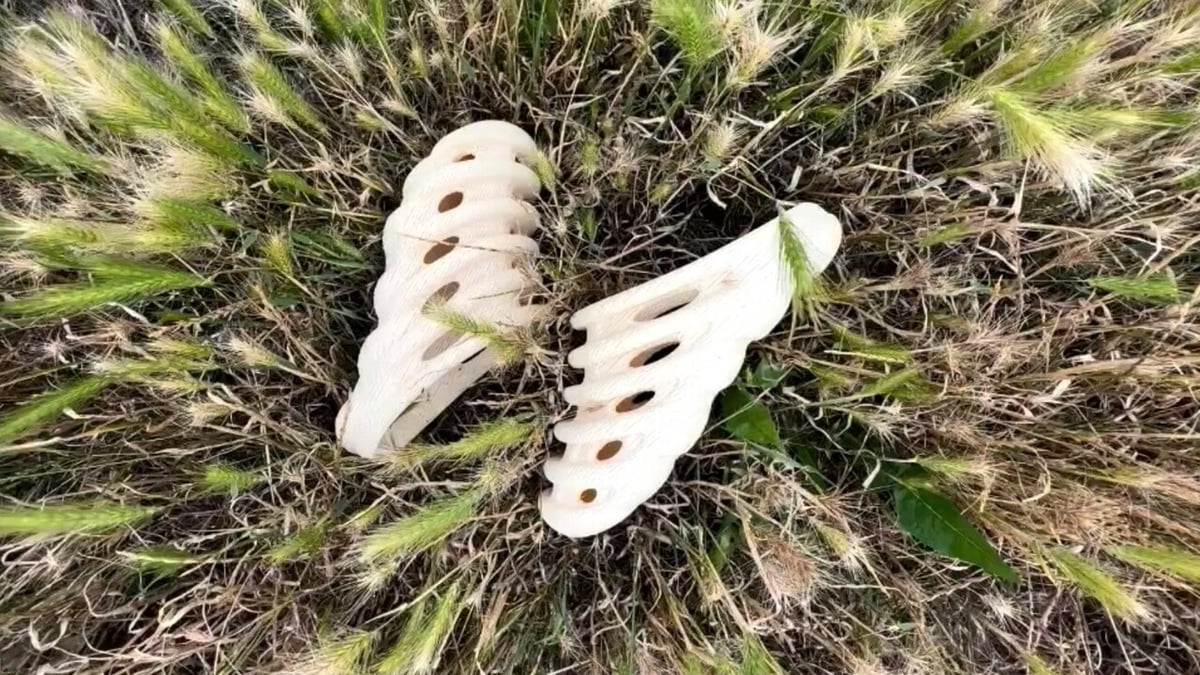 Very artistic indeed (Source: kittyshukman via Instagram)
Designed in collaboration with Kitty Shukman, the Amoeba Baby is another 3D printed slide from Zellerfeld.
Despite being less popular than the Nami, the Amoeba Baby has a creative rib-style design. It also has more gaps from each side, enabling for better airflow.
Similar to other Zellerfeld products, this slide is available in custom and standard sizes and fits, and there are five colors to pick from. However, it's also more expensive.
Price: $250
Printing technology: Zellerfeld's self-developed FDM 3D printers
Adidas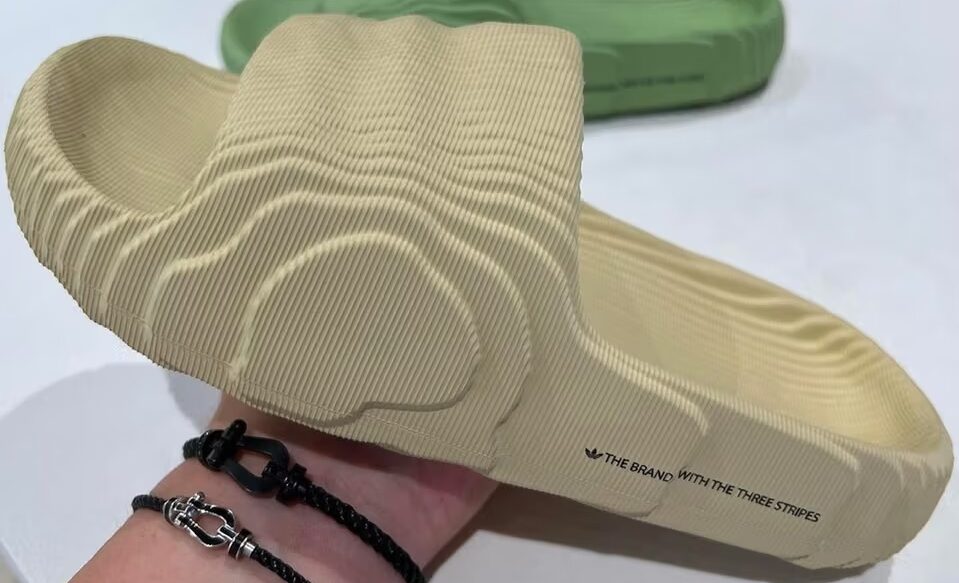 Simplicity is great (and low prices are too!) (Source: de.sneakerz via Instagram)
Among the major players in the footwear industry, Adidas is one of the first ones to explore making use of 3D printing for sneakers, starting development of 3D printed midsoles in 2016-2017, and eventually the 4DFWD running shoe.
Now, the brand with the three stripes released this affordable 3D printed slide as part of its very popular Adilette range, retailing at $55.
Adilette 22
Similar to Zellerfeld's Nami Slide, the Adidas Adilette 22 is designed with a layer-like geometry. This is inspired by the topology of Mars, as well as seismic waves. The concept is also reflected in the color variants, which include unique color schemes inspired by the Red Planet (but plain colors are also available), such as Desert Sand, Lime Sand, and Olive Strata.
Designed with a soft base and outsole for comfort, this is a great and relatively affordable entry to 3D printed footwear. Better so, it's also made out of an environmentally-friendly material with 25% plant-based content derived from sugarcane.
Price: $55
Printing technology: Carbon DLS (based on similar offerings)
Aliveform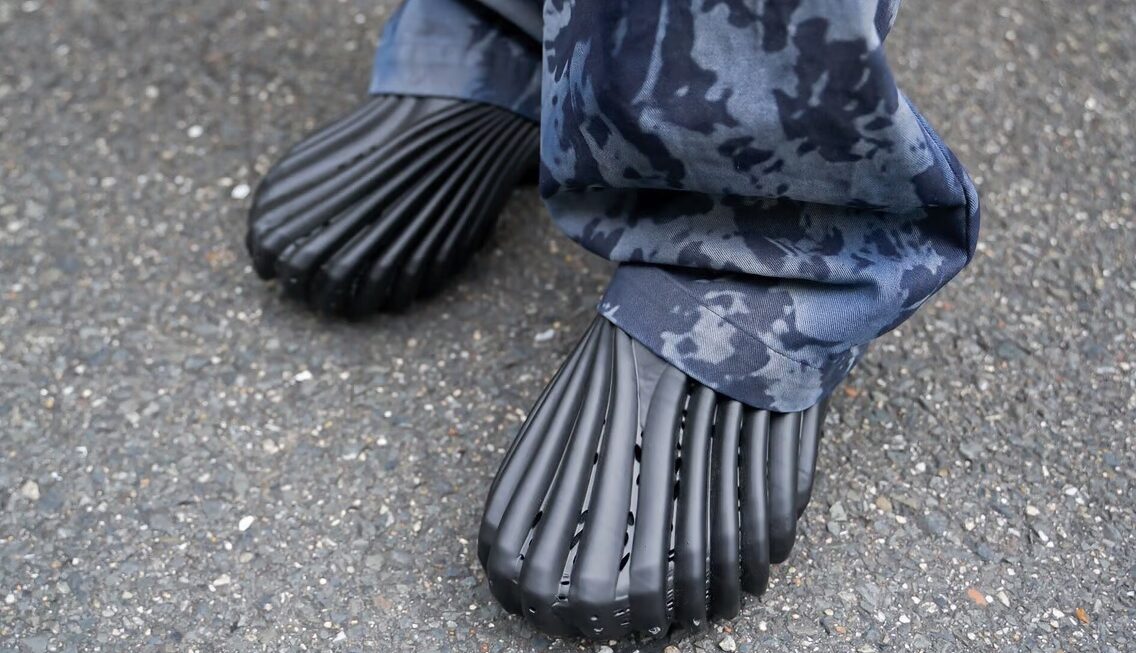 More like something from a science fiction movie (Source: Plug)
Aliveform is a Tokyo-based 3D printed footwear brand established in 2022 by Singaporean designer Pek Shun Ping. At the time of writing, there are two series of products: the Armis series and the Monstera Stomper slide. Because the company's models are printed on demand, a wait time of four weeks or more is expected before any product is ready to ship.
Armis
The Armis slide is part of Aliveform's Armis series, also containing low- and mid-sneakers. Though called a slide, it has a fully closed front and back, making it a hybrid between a slide and a shoe.
According to the company, the name Armis was derived from the Latin word for armor, a homage to nature's protective designs. This might explain the "tree roots" wrapping around the shoe.
Similarly to all printed slides, gaps are also present all around the shoe to ensure good airflow. However, this model only comes in three colors: Charcoal (black), Chalk (white), and Lime.
Every product from Aliveform also comes from an intricate, yet recyclable and biodegradable cardboard box.
Price: $269
Printing technology: SLA
Monstera Stomper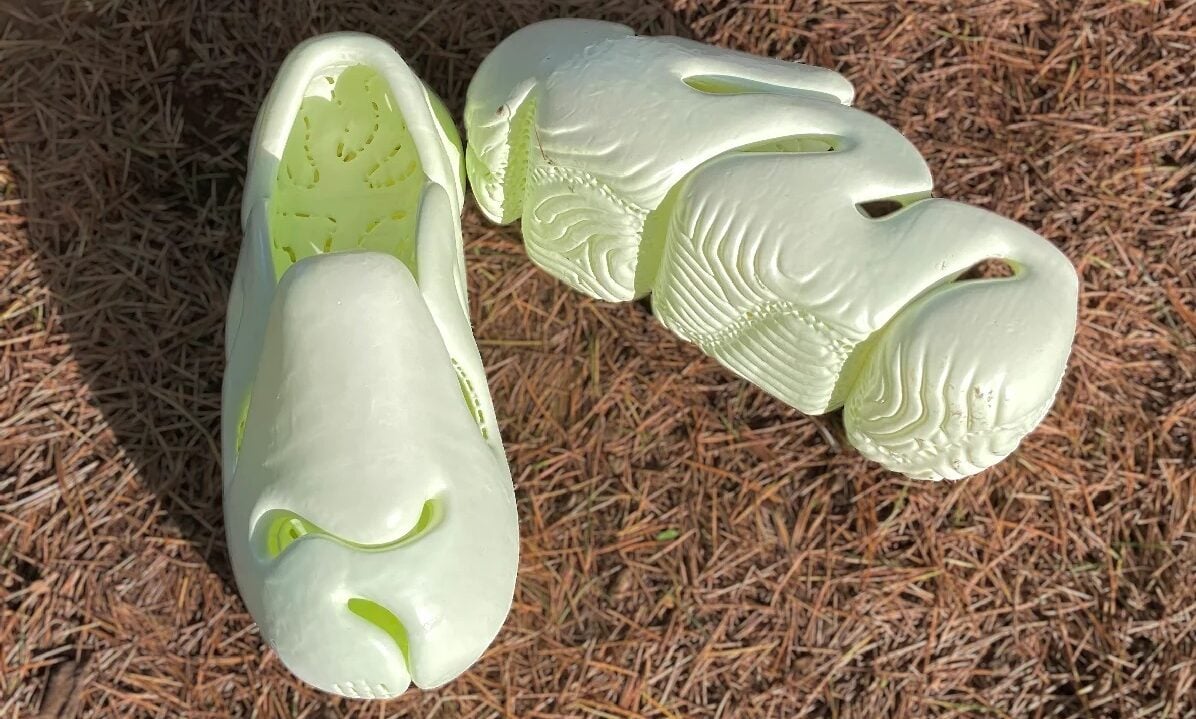 Elephant's foot? (Source: Aliveform)
This slide differs from every other design in this list because of its style. In fact, it might not be a slide, as it has a covered back and a semi-covered front (it has holes, though!). Instead of having a full base and foot bed, the material only meets in some locations. In contrast to other more streamlined designs, this slide also looks chubbier.
Similar to other Aliveform products, the Monstera Stomper also comes in a special, environmentally-friendly cardboard box.
Unfortunately, this hefty slide also comes with a heftier price tag.
Price: $410
Printing technology: SLA
We're looking forward to seeing more brands and new companies releasing 3D printed slides in the future! Many brands, such as Reebok, are already planning to release 3D printed slide designs.
If you want to try a printed slide but aren't willing to invest the high price tag, consider making your own using your FDM printer, using the ever-popular Yeezy slides STLs. However, remember to keep in mind that FDM has its limitations as compared to other more complex printing technologies, and you will likely not reap many benefits of 3D printing footwear because of this.
Lattice structures, especially complex ones, will be difficult to print without excessive supports, and large layers might be uncomfortable. We recommend printing this with gyroid (or similar) infill to get some good cushioning and to use a flexible material.
That said, many people seem to be happy after printing the model. It's an interesting experiment, and definitely worth a try!
by Gedeon Ang
Source: https://all3dp.com/2/3d-printed-slides-brands/