The OESH Townie merges Technology and Wellness into the Perfect Shoe
The Townie flat accurately captures human movement research and the shape of a woman's foot in a beautiful, functional flat. It's the 21st century dress shoe you've been waiting for, 3D printed to create otherwise impossible features you'll be sure to love. Designed and made entirely in Charlottesville, Virginia, every pair purchased builds and supports our community. Back our campaign and be the first to share all that wearing the Townie delivers.
*The Townie Flat by OESH is now available on oeshshoes.com *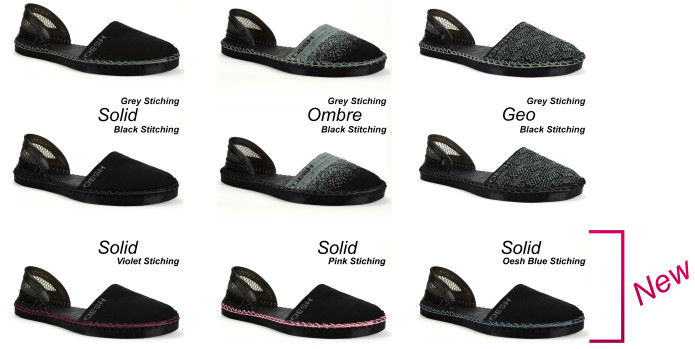 THE WORLD'S MOST COMFORTABLE SOLE
Encapsulated within the Townie are over 2,000 stacked honeycomb spring units that are 3D printed into the sole with our patent pending 3D print process. This unique sole structure, that cannot be made with any other manufacturing method, gives you a healthy spring in your step like you've never before experienced.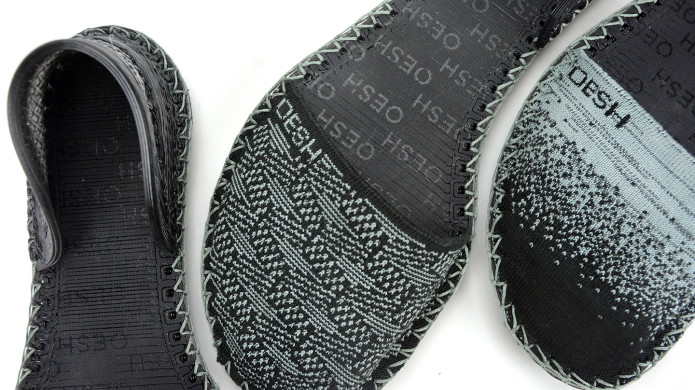 OESH IS

 

ALREADY

 

SHIPPING THE TOWNIES…
AND THIS IS WHAT OESHERS ARE SAYING!
"They're sexy!"
-Mary in Minneapolis, MN
"THEY STAY ON!"
-Lucie in Albemarle County, VA
"The new flat I just received is exceptionally comfortable. The thicker sole is so goooddd for my feet and they stay on and no slippage. Wanting you to know this new design is like no other flat I have had with your exquisite sole."
-Linda in Boys Town, NE 
2,000 STACKED HONEYCOMB SPRINGS
DELIVER THE TOWNIE'S HEALTHY BOUNCE  
STAYS SECURE AND MOVES WITH YOU
A unique grippy soft-touch 3D printed heel piece keeps the Townie secure on your foot.
Unlike a typical d'Orsay dress flat, the stretchy knit upper and the grippy flexible heel piece work together to keep the flat secure on your foot.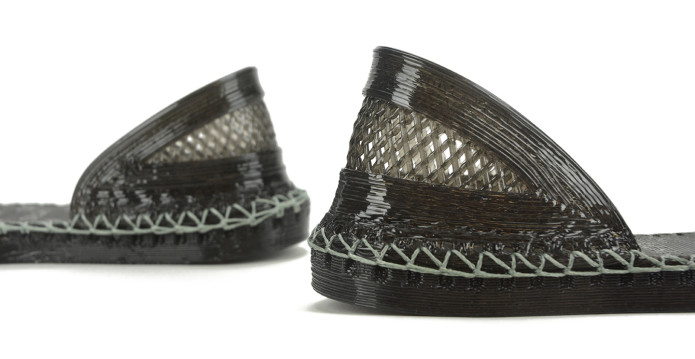 EASY SLIP-ON 
All you have to do to get going in your Townies is step right in.
GET TO KNOW THE TOWNIE FLAT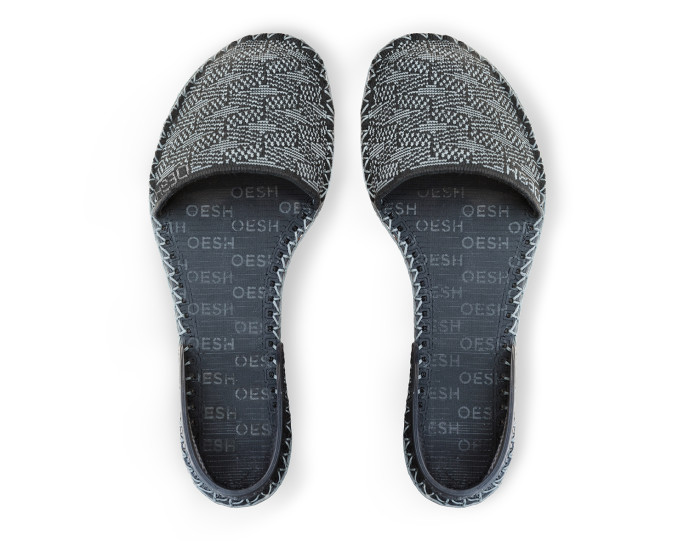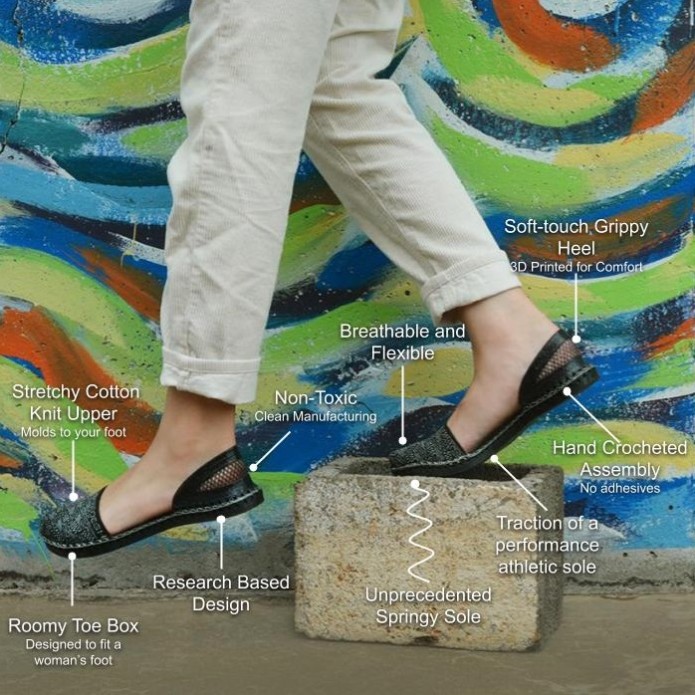 The Townie flat by OESH combines an impossibly springy 3D printed sole with unbeatable traction, a grippy soft-touch 3D printed heel piece that stays put, a breathable stretchy cotton knit upper that molds naturally to the shape of your foot, and a beautiful hand crochet finish.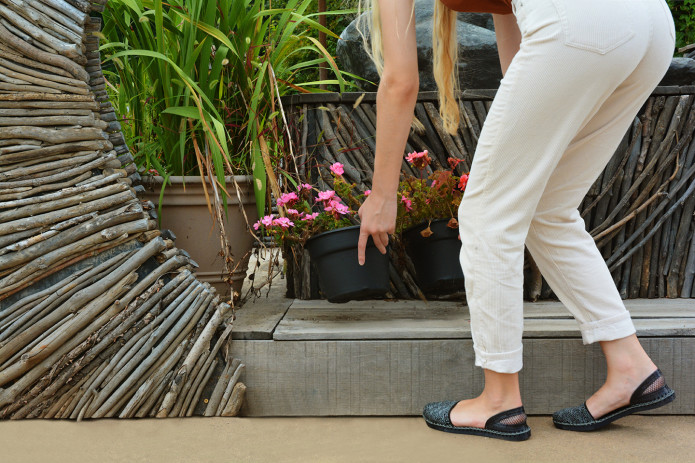 MADE DIFFERENTLY IN CHARLOTTESVILLE
Not only are the Townies you receive 100% made in Charlottesville, so are the 3D printers used to manufacture them. With your support, we are creating exciting new opportunities in STEM as we build additional 3D printers, purchase and program additional computerized knitting machines, and build out clean, high tech factory space as OESH keeps growing. 
THE CROCHET STITCHING IS MORE THAN JUST BEAUTIFUL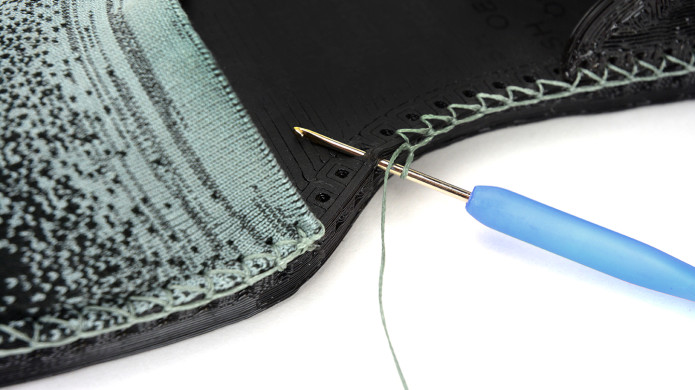 Footwear manufacturing is typically done overseas predominantly by factory workers who are exposed to toxic chemicals and heavy VOC emissions, especially as the footwear upper is attached to the sole. The unique patent pending sole design of the Townie bypasses the need for these toxic processes and allows that the upper parts of the shoe can be attached with hand crochet.
Looking at this crochet attachment step as a way to help empower women with this skill who cannot easily work outside the home, we're excited to partner with the International Rescue Committee (IRC) of Charlottesville, an organization that does extraordinary work for our community: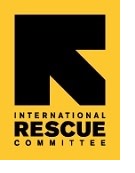 "The IRC of Charlottesville looks for opportunities for refugees and other immigrants to thrive in the community. Many refugee women face barriers to more traditional employment opportunities outside the home, including limited English language skills, and limited access to transportation and affordable child care. OESH's model of employing refugee women to crochet together the Townie flat not only removes these barriers but also empowers these women by enabling them to contribute to their families' economic self-sufficiency in a way that balances their families' needs."
CLEAN SUSTAINABLE MANUFACTURING
At OESH, we're committed to long-term Health and Wellness - of the OESHer's who wear our shoes, of our team members who create our shoes, and of our planet. Our local 3D printing, machine knitting, and on demand manufacturing combine to minimize waste and utilize an attachment process that - unlike most all of the footwear industry - does not use glues and heat tunnels activating toxic VOCs. Your beautiful OESH Townie, with its hand finished crochet stitching, will be setting an entirely new standard for sustainability in shoe manufacturing.  

Natural Cotton Yarn + 100% Recyclable Rubber Pellets  =  The Townie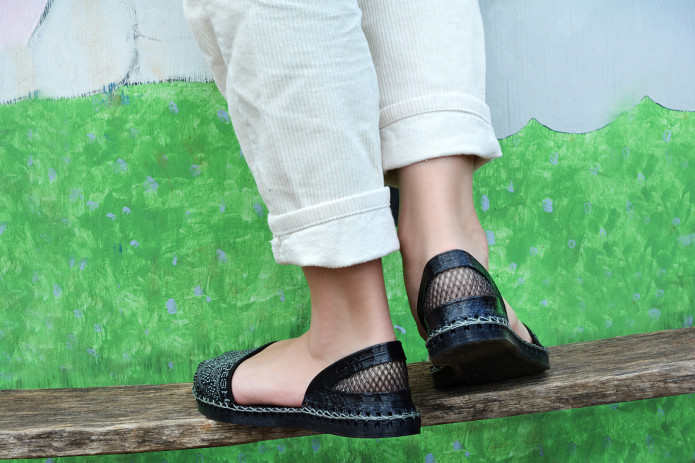 MEET OTHERS* ON THE TEAM
Introducing the OESH robots working on your shoes: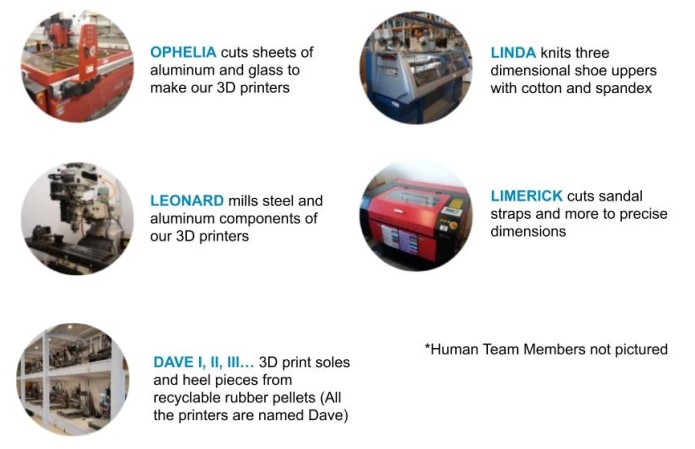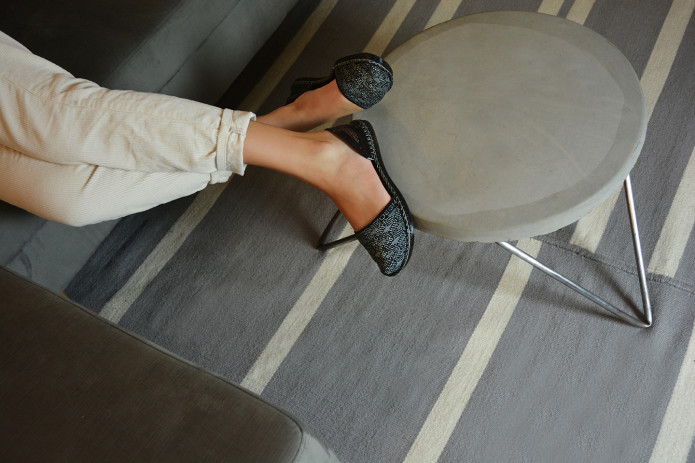 TIMELINE
The Townie has been long in development, supported first by grants from the National Science Foundation to develop the 3D printing process to create it and then with matching funds from the state of Virginia and most recently from the city of Charlottesville. With your support we can now make that leap from development to production.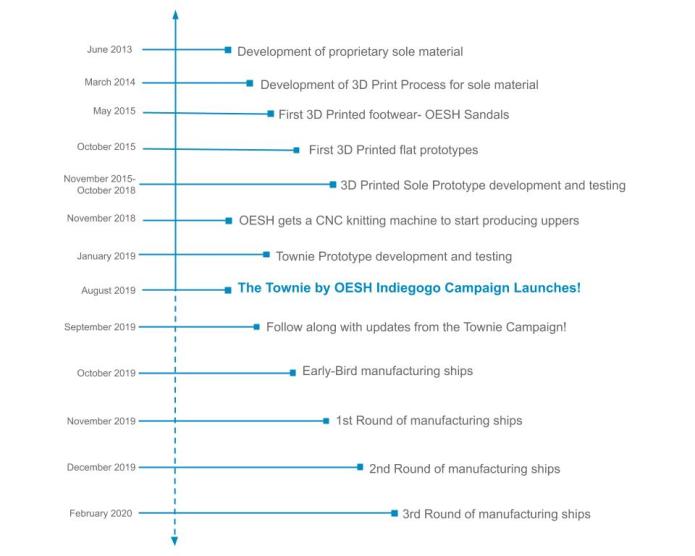 Our fulfillment timeline is conservative because unlike typical shoes that are molded in mass quantities overseas, your Townie flats will be made just for you, assembled and crocheted by hand. On demand manufacturing allows us to have more efficient stock of sizes and patterns, eliminating the tremendous waste that occurs in typical shoe manufacturing. 

TESTIMONIALS 
A few women in town wore our first prototypes, and here is what they told us afterward:  
"These are the prettiest comfortable shoes I've ever worn."
-Joan, Trainer 
"I wear them every day, everywhere, with everything."
-Cathy, Teacher
"All my friends love the look. And I love how they stay on my feet."
-Marianna, Student
CONNECT WITH US
If you have any questions about the Campaign or more general inquiry regarding OESH Shoes, please email indiegogo@oeshshoes.com
Find OESH on social media! We would love for you to share the Townie Flat with your followers, and tag us on Instagram, Facebook, or Twitter,
Leave a comment on the campaign by clicking the comments tab above.