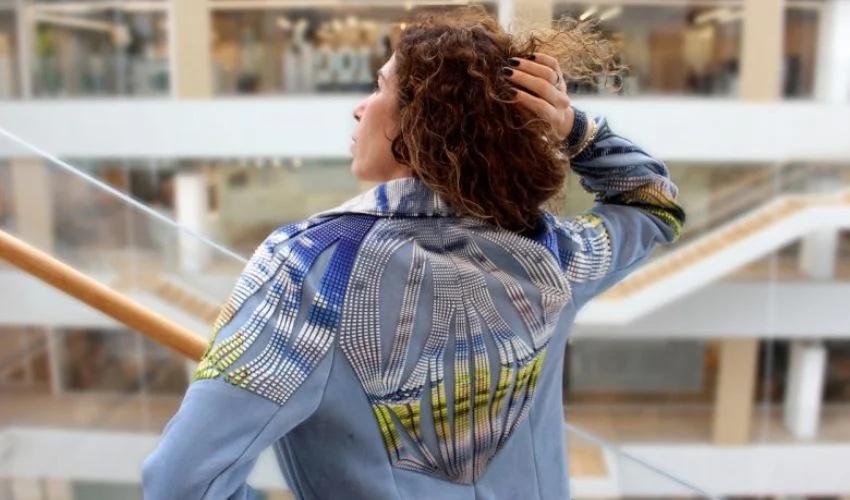 Just recently, Stratasys announced its breakthrough in the fashion world with the launch of its J850 TechStyle. Now, the U.S.-Israeli manufacturer has unveiled its 3D printed SSYS 2Y22 Reflection Collection at Milan Design Week. Specifically, the collection includes highly exclusive high-end 3D-printed apparel, individualized and customized accessories, and of course, luxury goods whose designs reference the social impact of recent years. Thanks to the close collaboration with a total of 7 designer groups and the innovation of the J850 TechStyle 3D printer from Stratasys, this allowed concretely to produce high-end clothing and suits, luxury packaging, cosmetics, handbags, shoes and much more thanks to 3D printing.
The Reflection Collection refers to three main pillars covering personal space, social inclusion and mindful manufacturing. Naomi Kämpfer, art, design and fashion director at Stratasys states that this collection aims to "brings to life the impact of the global changes of the last two years through innovative fashion and design pieces." For this reason, they want to specifically express aspects such as injustices like equality, gender and ethnicity, slow fashion, longevity and respect for the planet and its ecology with the 3D printer clothing.
Revolutionizing the Fashion World With 3D Printed Clothing
Not only is Stratasys addressing issues related sustainability and manufacturing processes with their SSYS 2Y22 Reflection Collection, but they are also making a statement with those designer groups that they have supported as part of the new fashion collection. Among them is KAIMIN, which is very active in the LGBTQIA+ community and has already collaborated with celebrities such as Bjork, Lady Gaga and even Beyonce. As part of the collaboration, KAIMIN, which is based in New York and considers itself a gender-neutral fashion label, has created clothing such as a body suit, dress and jacket using 3D printing, dedicated to the parametric urban architecture of New York.
Also on board is the multidisciplinary design lab FORÆVA, co-founded by fashion designer Lana Dumitru and architect Vlad Tenu. Their goal was to give their additively made garments and accessories a social connection through storytelling. Their Reflection Collection design pieces feature traditionally ethnic Romanian designs that, upon closer inspection, are meant to show us hidden meanings of that culture. In addition, Karim Rashid, Jasna Rok Lab, Ganit Goldstein, Assa Studio and Illusory Material also contributed their influence as design teams in Stratasys' fashion collection.
At Stratasys, they are well aware of the importance of collaborating with designers and fashion houses for the SSYS 2Y22 Reflection Collection, as Shamir Shoham, Vice President of Design at Stratasys, stated, "Our partnerships with designers and fashion houses have allowed us to bring to the world an innovative collection created using 3D printing technology. We believe that 3D printing is the future of innovation in fashion and design and that it will open up unlimited possibilities for fashion designers and manufacturers to personalize and customize 3D-printed fabric pieces."
Finally, Stratasys has partnered with Dyloan and the D-Hosue in Milan, Italy. The top innovation center for fashion technology development is demonstrating the versatility of 3D printing applications from concept design to final production thanks to the use of Stratasys 3DFashion technology. Overall, this technology is transforming the entire design workflow for fashion designers working at D-House Academy. You can find more information about the clothing produced using Stratasys 3D printing HERE.
Would you wear clothes from the 3D printer? What do you think of the SSYS 2Y22 collection? Let us know in a comment below or on our LinkedIn, Facebook, and Twitter pages! Don't forget to sign up for our free weekly Newsletter here, the latest 3D printing news straight to your inbox! You can also find all our videos on our YouTube channel.
*Photo Credits: Stratasys/Ganit Goldstein
SOURCE: https://www.3dnatives.com/en/3d-printed-ssys-2y22-reflection-milan-100620224/