Obertshausen - Warp knitting machine builder Karl Mayer has issued a range of new applications for its latest double-needle-bar raschel machines including the production of seamless sportswear knit in a single piece.
From its Warp Knit Seamless portfolio, Karl Mayer has produced a sports dress which, with an integrated body mapping design, can be made on either a DJ 6/2 EL or RDPJ 6/2 EL in gauge E28 and offers all the performance features of functional sportswear: breathability through open areas in exposed places, freedom of movement and quick drying.
Both of the machines offer the EL pattern drive and jacquard options resulting in a fabric that is described as soft and supple, thanks to the use of polyamide.
To provide precise elasticity, the jacquard bars were drawn in with a two-component yarn, comprising a polyamide core and elastane sheath.
At ITMA Milan, Karl Mayer noted there was significant interest in the ready-to-wear top and leggings set. Both elements simply need to be cut out of the manufactured panels. This decreases sewing effort and waste and, depending on the size and cut, the proportion of fabric to be disposed of is around 15% for leggings and around 5% for tops.
Moreover, when producing tops, only the shoulders and neck need to be cut out – the arms and torso are made ready to use directly on the machine. In addition to these advantages, this "Warp Knit Seamless" technology offers the possibility to efficiently produce mass products complete with customisations, such as logos and other items.
"An exciting look and comfortable feel are offered by a completely new seamless warp knitted fabric that cleverly combines three-dimensional and open structures in a single textile," Karl Mayer says, adding that the plastic pattern parts create extravagant irregular surface effects, paired with very fine yarns for a soft handle, yet the fabric only comes into partial contact with the skin.
"They are produced using the jacquard bars of a specified machine, a DJ 6/2 EL or RDPJ 6/2 EL, each with a gauge of E28. The jacquard bars process a polyamide yarn with an elastane cover in alternating lapping with long float stitches, which creates plasticity by shrinking during finishing.
"The jacquard bars allow the design elements to be placed as desired. The fact that the garments can be produced almost entirely directly on the machine is another distinct advantage. Only a few processing steps are required until the item is finished."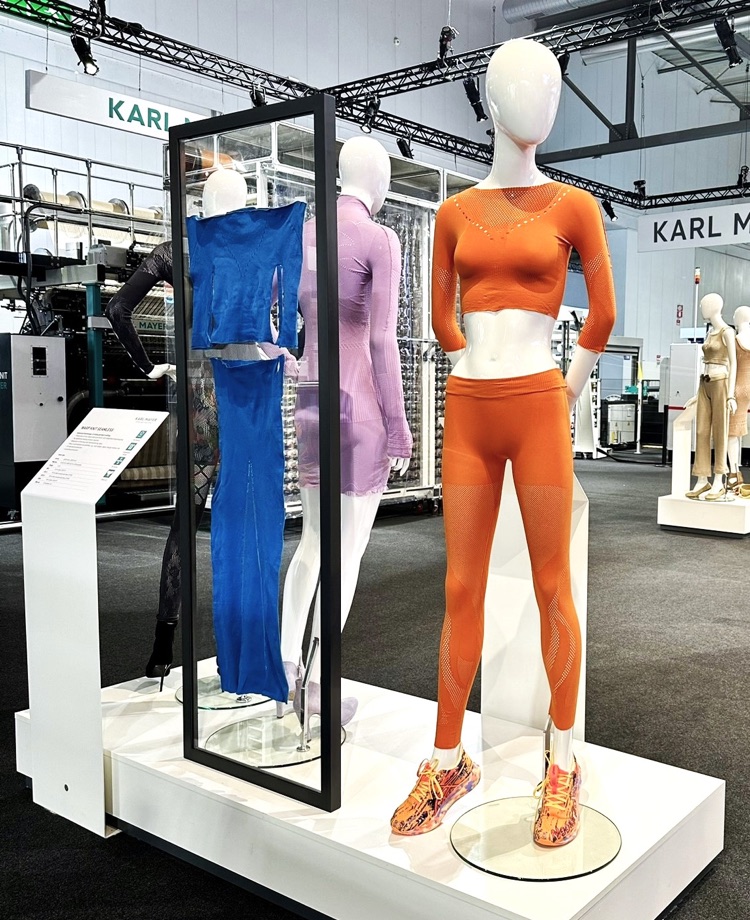 4D-Knit
While the spacer layer of 3D warp knitted fabrics is filled with bulked yarn, previously unattainable performance features and surface designs can be created. Smooth patterns, two-tone colouring, breathable mesh zones and – in a new development – clearly pronounced relief parts with individual placements and dimensions are all possible.
Depending on the amount of filling and the design of the plastic motifs, a wide variety of textile solutions are possible, says Karl Mayer, with the product repertoire ranging from breathable fabrics, e.g. for functional shoes, to cosily padded and warm jacket fabrics.
"When it comes to garments with an insulating effect, 4D-Knit articles stand out for their decisive sustainability advantage over napped fleece fabrics: fewer fibre fragments are released into the water during washing, as the insulation fibres are enclosed between the cover surfaces of the 3D textile," says Karl Mayer, noting that the results of a study conducted by the Hohenstein Laboratories in Bönnigheim confirmed these findings.
The new spacer warp knitted fabrics were produced on a RDPJ6 6/2 EL FB, in gauge E28.
by Haydn Davis
SOURCE: https://www.knittingtradejournal.com/warp-knitting-news/15565-warp-knitting-for-3d-seamless-sportswear