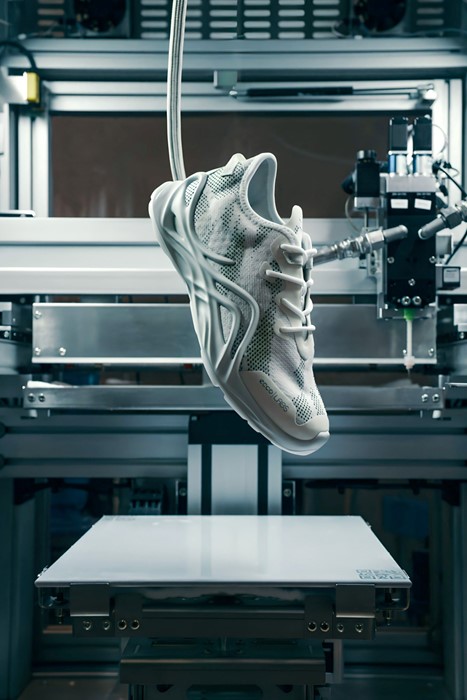 Plenty of brands offer fans the chance to pimp out their kicks aesthetically, but the Danish brand's techy new Biom Infinite shoe is designed for you from start
to finish
Of all the boundary-pushing sneaker labels out there on the shelves right now, ECCO probably isn't the first one that springs to mind when thinking about investing in a new pair of kicks – but maybe it should be? The family-run label which first landed in Denmark in 1963 before exploding across the globe in the 60 years since is now at the very forefront of tech when it comes to footwear, thanks to the introduction of its new Biom Infinite silhouette. 
Getting its launch back in the brand's Danish motherland during Copenhagen Fashion Week SS24, the style is the result of years of trial and error within the ECCO Lab, until the science boffs finally got it just right. Each shoe is designed to fit the wearer's foot perfectly while providing the ultimate support for whatever activity you have on the agenda: whether that's running, hiking, or mooching to the corner shop for a Coke and a bag of salt & vinegar crisps on a hungover Sunday morning.
If you're wondering how the label gets that perfect, moulded-to-your-foot fit, though, here comes the science bit. Step inside one of the specially selected global ECCO stores and you'll find a high-tech set-up waiting for you. Here, you'll slip off your shoes and stand on a cold metal platform covered in censors, which will map out the measurements of your foot and transform them into a neat, interactive, 360 diagram on an iPad. From there, you can pick your favoured exercise levels, what you're looking for in your new sneaker, and the label will put them together in the background and ship them out direct. 
Each finished iteration, whatever you go for, is mega lightweight and crafted from materials including 3D printed silicone and ultralight foam, while boasting unique FLUIDFORM injection tech in the sole. Up top, the shoe's sock utilises BYBORRE materials – which are embedded with antibacterial silver microparticlea and syphon off sweat thanks to moisture regulating properties – and matches them with slick leather accents using hide pulled straight from ECCO's own tanneries.
But how does it feel when you actually get your truly custom-made shoe on your foot? Having thought myself a UK size six for most of my adult life, upon stepping off ECCO's tech I was told I was actually a small five with a particularly high in-step, which meant in some shoes I'd occasionally often have to buy a seven. Having a sneaker moulded to the shape and size of my feet genuinely felt like walking on clouds: maybe the Biom Infinite will be the shoe to coax me out of my kitten heels once and for all. 
For more info and to get your hands on your own pair, head here.
Source: https://www.dazeddigital.com/fashion/article/61098/1/ecco-boundary-pushing-new-shoe-is-the-future-of-custom-sneakers-biom-infinite