Your new favorite ballet flat: surprisingly roomy, with a knit upper and a unique bounce in the sole.
The Dream by OESH is the most comfortable women's dress shoe ever made. Designed by Harvard MD Casey Kerrigan, it is the first dress shoe that truly respects the woman's body and the shape of her foot. The acclaimed springy OESH Sole works in sync with your body for a self-powered bounce in every step you take. A unique stretchy sock-like knit upper gently hugs your foot allowing full, active movement. Back our campaign and help women all over the world experience the Dream.
The Dream Flat by OESH is available for pre-order now on
oeshshoes.com


The Science of the Sole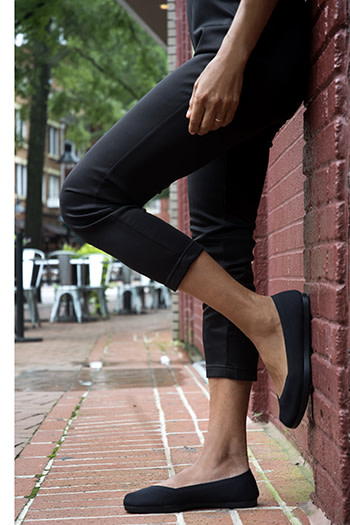 Unlike the typical dress flat,"The Dream" is a true flat, meaning the OESH Sole is completely flat from heel to toe and side to side in the forefoot region.
The reason for this is simple. OESH Founder Dr. Kerrigan's published research on walking, running and the effects of footwear on the body has uncovered that even a small heel elevation, along with other, often hidden, features in traditional women's dress shoes, abnormally increase impact on the knee and other joints in the body.
The increased impact on the knees may help explain why women are twice as likely as men to develop knee osteoarthritis over a lifetime.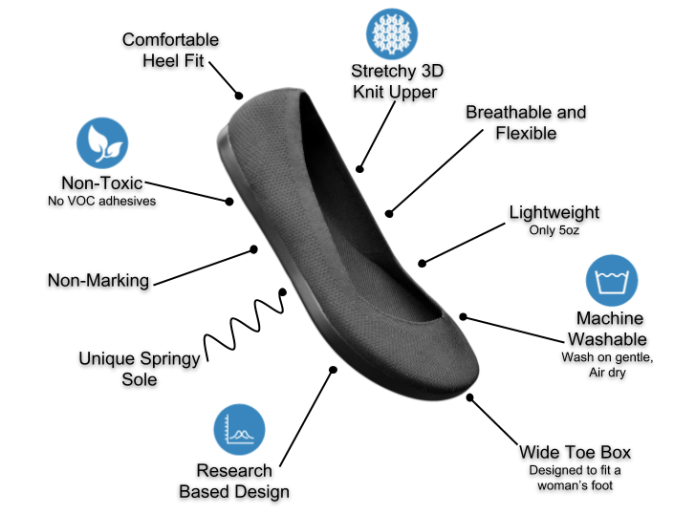 OESH Soles are made flat from a uniquely springy material that stays flat without developing unwanted contours over time, giving your foot and body the stable foundation you've never had in a women's dress shoe. The springy Sole, made of the highest performance elastomeric material possible, based on years of biomechanical data, is precisely tuned to give you the stability, comfort and performance you could only DREAM of in a dress shoe.
Form Follows Function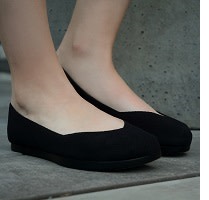 Driven by Dr. Kerrigan's research and inspired by the lifestyles of active women, the Dream is designed to make you feel incredible all day long, whether its hustling around an office, running around town or dancing in the rain. Its design is wonderfully versatile, and comfortably transitions from a day of work to a night out in the city. 
Most dress flats are narrower in the forefoot and toe box than most women's forefoot and toes are naturally. Try tracing your bare foot on a piece of paper, then trace a pair of dress shoes you wear on top. More likely than not, the outline of your foot at the toes fits OUTSIDE the outline of the shoe! Consistently squeezing your forefoot and toes into shoes with a narrow forefoot and toe box not only hurts, decreases your circulation and permanently deforms the shape of your feet, it has negative effects on the joints above your foot as well.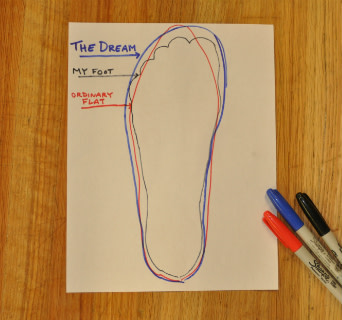 At OESH, we don't think deforming your forefoot and toes and compromising your foot's natural function is especially attractive. 
Instead, we believe your natural feminine foot shape, which is wider in the forefoot and narrower in the heel compared to men, is beautiful.
And functional.
Unique Stretchy Sock-Like Upper
A soft stretchy knit upper gently hugs your foot without bunching up or digging in while enabling further movement in your foot and toes. This is in contrast to your usual shoe upper material which hardly even accommodates the change in your foot size that occurs throughout the day. How are we able to do this? With a unique combined experience in both biomechanics and manufacturing. The upper is knitted on a computerized knitting machine with just the right amount of tension and stretchiness to accommodate all those natural foot size and shape changes. Bottomline, you can comfortably wear them all day and all night!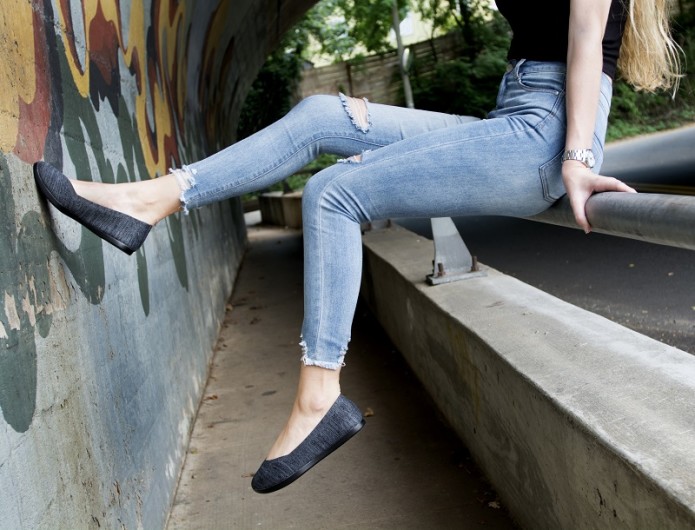 The Story of OESH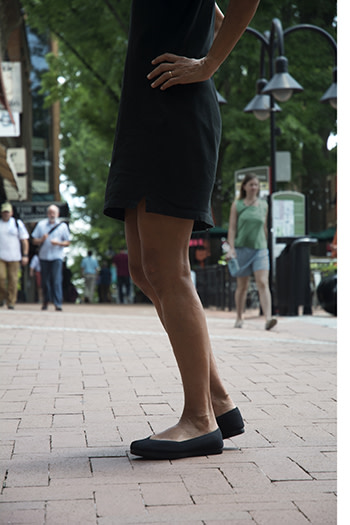 OESH Shoes was born from Dr. Casey Kerrigan's 20 years of research on the biomechanics of walking and running and the effect of footwear on the body. Dr. Kerrigan received an M.D. from Harvard Medical School which just featured her unlikely journey from medicine to footwear in the current issue of Harvard Medicine Magazine.
Her discoveries that heel elevation and other features in traditional women's dress shoes not only hurt the foot but also increase impact on the knees and other joints, have been featured in Glamour, Mademoiselle, the New York Times, Prevention, Newsweek, ABC's 20/20 and other news. Her specialty of physical medicine and rehabilitation has to do with performance and the long-term health and well-being of the whole body. With over a hundred peer-reviewed research publications, she dreamed of a better shoe. But to make it would require developing an entirely new sole material and design. So, she built a factory and started developing and making. Since 2011 women all over the world are now wearing OESH and telling us how much they love them. 
For more information about OESH Shoes, visit www.OESHshoes.com

Innovation
OESH is uniquely committed to innovation and research. OESH is the only shoe company that is recognized by the U.S. National Science Foundation with a Phase I and Phase II Small Business Innovation Research Award for footwear manufacturing. In 2016, Dr. Kerrigan was recognized as one of the top 100 woman leaders in manufacturing (and the only leader in footwear manufacturing) by the U.S. Manufacturing Institute with a STEP (Science, Technology, Engineering and Production) Ahead Award. In April 2018, OESH Shoes was awarded the "Innovator of the Year" Award by the Charlottesville Business Innovation Council at its 20th Anniversary Gala Celebration.
Integral to developing the OESH Dream was creating numerous prototypes using a proprietary 3D printing process which OESH specially developed to print its elastomeric material. With support from the National Science Foundation, OESH continues to refine its novel 3D printing process and currently uses it not only to prototype new footwear styles but also to manufacture in their entirety, our award-winning Athena and Artemis sandal soles. 
Sustainability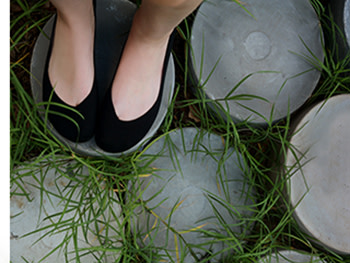 Dr. Kerrigan's research informs a shoe design that is not only easier on the body, but also easier on the planet. The traditional shoe design typically combines numerous needless and often unhealthy materials bonded to one another with toxic VOC laden adhesives and primers.
The Dream ballet flat is simplistic in design with only three main components: the upper which is  knit all in one piece and hand sewn to minimize waste and maximize wear, a proprietary non-vinyl elastic spring Sole that is easier on workers and on the environment than the typical vinyl rubber and EVA (ethylene vinyl acetate) used in the shoe industry, and a removable insole that is similarly devoid of vinyl. Because the Sole is a single unit and does not contain any vinyls, it obviates the need for any of the toxic VOC adhesives and primers typically used in the industry. 
Testimonials & Customer Service
OESHers around the world have been loving the unique spring and fit of OESH Shoes for years. If you get a chance, you can see the enormous amount of feedback we regularly post on the OESHers Say page of the website. And we have hundreds of reviews on Google and Facebook with sterling ratings of 4.8 and 4.7--exceptional for any apparel company but nearly unheard of for a footwear brand. We believe these reviews are due to our eagerness to listen and improve OESH Footwear where and when we can. As long as suggestions can be met in the realm of peer-reviewed medical science, we weigh the merits of great ideas constantly. The upshot is that OESH, without question, has the most sophisticated and educated consumer base in the footwear world. Our respect for OESHers is the spine of our business--and our excellent, fair, yet firm execution of consistent Customer Service speaks directly to this relationship.
But even we have been blown away with the first comments from women wearing the Dream:
"Jinkies! Those are comfortable!"
-Cassie, New Haven
"I usually wear sneakers for my commute, but if I was wearing these, I would never take them off!"
-Katie, Vienna
"...Can I keep these?" 
-Becca, Cambridge
Timeline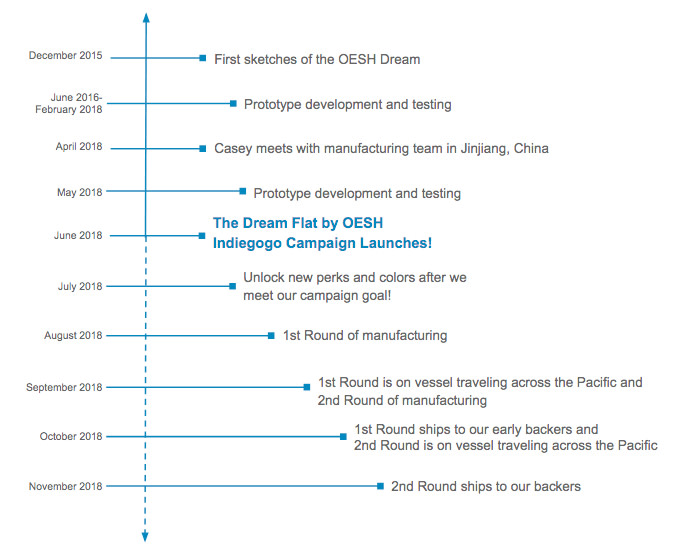 Team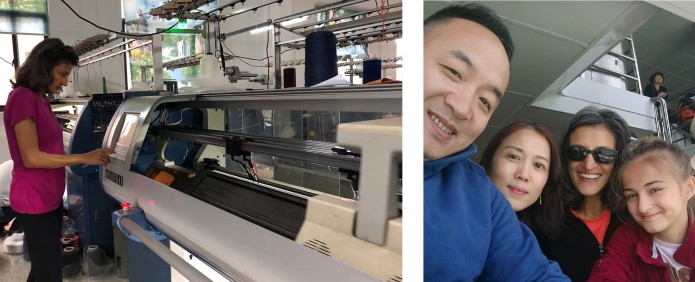 OESH is based in Charlottesville, Virginia where all OESH Footwear are designed, developed and tested. Like several of our footwear lines, your Dreams will be made and shipped back to the Charlottesville Factory by ocean vessels from our manufacturing team in Jinjiang, China. OESH then Fulfills your order from Charlottesville directly to your home. This means Dr. Kerrigan doesn't have to knit every pair of uppers by hand! Rather, hundreds of computerized knitting machines like the one Dr. Kerrigan is programming above in Jinjiang, will be used to create the stretchy knit uppers.
OESH has been working with the same manufacturing team for many years, and our close relationship continues to benefit both sides of the Pacific. Pictured above are Managing Directors Charlie and Yvonne with Dr. Kerrigan and her youngest daughter on the Dream development trip earlier in 2018. We are especially pleased with the long-term health benefits our focus on Sustainability (above) creates for those we work with in Asia. This is an essential virtue of backing OESH and one where we again lead the shoe industry by doing the right thing for our entire Team.
Established soon after OESH began rolling volume through our Charlottesville factory, this international partnership combines hundreds of hands working together to make a line of finished shoes. Impressively, OESH has carved a unique fit and manufacturing process within the hub of world-wide footwear making, allowing us to produce beautiful shoes in high volume--one finished pair at a time. A proven long-term partnership ensures that the shoes you receive are well made with the highest quality materials, for our most comfortable, practical, and stylish shoe yet. 

Frequently Asked Questions
How do you pronounce OESH?
OESH is pronounced like the first syllable of ocean, ōSH. The name OESH turns the word "shoe" upside-down and inside-out, the same thing OESH Shoes has done with the idea of footwear.  
How do I choose my size? 
We will e-mail you! The Dream will be available in sizes 5-12 (US Women's).  Also, if it's not a perfect fit you will be able to exchange them. 

I have foot issues! Should I try OESH?
Absolutely! The unique comfort and design of OESH Shoes can be enjoyed by everyone. OESHers include runners, rock climbers, surgeons, baristas, and just about anyone who uses their feet. OESH has also been the shoe of choice for women with a wide range of conditions including Morton's neuroma, knee pain, metatarsalgia, and especially during and after pregnancy. 
Is the Dream flat vegan/eco-friendly/sustainably made?
Yes! The Dream does not contain any animal products, EVA foam, vinyl, latex, or toxic adhesives. The upper is knitted all in one piece to minimize waste and maximize wear and comfort.
What is all this peer reviewed research the design of the Dream ballet flat is based on? 
If you're interested in reading the research OESH design is based on, try starting with Knee osteoarthritis and high-heeled shoes (The Lancet, 9 May 1998)  and The Race to Build a Better Shoe: Biomechanists now know how to build a healthier shoe. So why aren't shoe companies making them? (IEEE pulse, 2014). DC Kerrigan, M.D. has written over 100 published journal articles on gait and movement, but you don't need to read them all to feel the benefits of OESH Shoes! 
Can I wear orthotics with my Dream?
Absolutely! The insole is removable. Just replace it with your orthotic.